---
---

Photos of the Day: TransPac Day 19

July 27 - Diamond Head


(Click on the photo to enlarge it.)
Morning Light passes Diamond Head under its namesake morning light.
© 2007 Rich Roberts / www.underthesunphotos.com

The beat goes on in the 2007 TransPac. Nearly 30 boats have rolled across the finish line in the last two days, but as the race approaches day 19 for the earliest starters, nearly a dozen boats remain on the race course. Among the highlights of the recent onslaught of finishers, On the Edge of Destiny, the 1D-35 skippered by Sean Doyle and crewed by his younger brother and a group of friends, finished early Wednesday morning, officially becoming the youngest crew to do the TransPac. Although their third in Division V and 14th overall is very respectable, it's their practically untouchable 'youngest' record - their average age is 19.8 - that is even more impressive.


Hold the mai tais. The youngsters from On the Edge of Destiny celebrate with an age-appropriate beverage of choice. From back left, Roscoe Fuller and Ted White; in front: Cameron Biehl, Sean Doyle and Justin Doyle
Photo Latitude / Sutter
© 2007 Latitude Publishing Co., Inc.

The tight race in Division II between two of the TP52s, Morning Light and Samba Pa Ti, and Brack Duker's Santa Cruz 70 Holua - in which the latter led on corrected time and the former two were nearly neck and neck - ended with a twist. Samba Pa Ti, skippered by John Kilroy and navigated by one of the world's best, Nick White, made out on their radical decision to go way, way south in the last few days. They not only finished ahead of the kids on Morning Light, on corrected and elapsed time, but also managed to beat Holua for the division win. Holua still managed to pull off a second in class. "Finishing ahead of the kids felt pretty good," admitted Holua watch captain Dave Ullman, a comment that is actually a compliment to the performance of Morning Light - one of the best-trained boats in TransPac history and among the youngest (their average age is 21.2).


The all-pro crew on Samba Pa Ti sailed all the way down to 19º latitude to find more pressure. Their bet proved to be a winner, and they pulled ahead on the last day to win their class.
© 2007 Rick Roberts/www.underthesunphotos.com

Morning Light's finish was better than anything a Hollywood producer could have scripted, apropos of the fact that the crew are destined for a shot on the big screen in a cinematic documentary about their experience in the race. The boat sailed across the finish line just minutes after the sun rose behind Diamond Head. "It was astonishing. I never would have dreamt of having a script like that," said the boat's patron and movie producer Roy Disney, both about the finish and the boat-on-boat racing that had taken place days earlier in the middle of the ocean. Asked if he planned it like that, he replied, "No bloody way!" Regarding their mid-ocean sparring with Samba Pa Ti, and later Holua, skipper Jeremy Wilmot explained, "We were sailing our own race, for sure. But we were so close to Samba that I could have pissed on their bow." Explained navigator Piet van Os, "It was a huge accomplishment to be so close to them. When they were just three boat lengths behind us, I looked over my shoulder and thought, 'These guys are getting paid lots of money right now and they must be really angry to be near us.'"

Morning Light didn't finish a moment too soon. When the post-race inspector asked crew Ginny Tulloch how much food they had left, she responded, "Well, I have two gummy bears in my pocket." With nine days of meals and five emergency portions per person in reserves, the crew ended up skipping a meal on one of their last days to make sure they'd have enough food to keep their energy up as they came into the finish. All of the crew agreed that this has been an incredible experience that taught them heaps about sailing, but more importantly, about life - which was Disney's purpose in setting up the team. "This is a story about life-changing transformations, not about a sailboat race. The sailing is just the vehicle that made it work," he said.

For up-to-the-minute finish reports, complete standings, news updates and photos can be found at www.transpacificyc.org.

- latitude / ss
---
A Call to Arms
July 27 - Washington, D.C.
BoatUS sent out a mass emailing earlier this week to all their members reporting on a recent court ruling requiring the Environmental Protection Agency to implement a national discharge permit system for every single vessel in the country (yes, your boat too) by September 30, 2008.
The lawsuit that led to the sweeping ruling was meant to reduce the introduction of invasive species, such as zebra mussels and mitten crabs, to bays and lakes from big ship ballast water, but had the inadvertant side effect of potentially costing recreational boaters millions of dollars. The EPA estimates that the permit, which would only be valid for 1-5 years, might cost mariners as much as $300 for every boat they own.
In response to this ridiculous new requirement, two U.S. Congressmen have introduced the Recreational Boating Act of 2007 (H.R. 2550), which would exempt recreational boats from the permit process. BoatUS is urging every boater to ask their Congressmen and Senators to support the legislation. If passed, it would permenantly protect rec boats from laws meant for commercial shipping. For all the details on the issue, and how to contact your legislators, go to www.boatus.com/gov/Fed_Alert.asp.
- latitude / ld
---
'Lectronic Available Everywhere
July 27 - The World
We're excited to announce that you can now keep current with 'Lectronic Latitude while under sail! Thanks to current Puddle Jumpers Steve and Susan Chamberlin, who planted the seed, and SailMail's Jim Corenman, who provided technical assistance, 'Lectronic is available for download via SailDocs, a service of SailMail (although you don't need to be a SailMail user to get it).
To try it out, send an email with the following line in the message: http://www.latitude38.com/LectronicLat/latest.html
Within minutes you will get back the latest issue of 'Lectronic, converted to plain text. You won't get any of the cool color photos that HTML users see when they read 'Lectronic on the Internet, and some longer issues will be truncated due to the 10K limit SailDocs places on file sizes. But as the song says, "A little bit is better than nada."
- latitude / ss
---
"Lisa Was Our Inspiration"
July 6 - Thetis Island, British Columbia
"That trip beat the hell out of us," recalls Ken Grady of Denver, Colorado. With his boat partner, Joe Cunningham of Danville and two other friends, Ken brought the Catalina 42 MKII Sea Escape up from the Bay to Puget Sound in early May and took a good thrashing en route. "We generally had 25 to 30 knots of wind right on the nose," recalls Joe. They were only able to sail two days out of 17.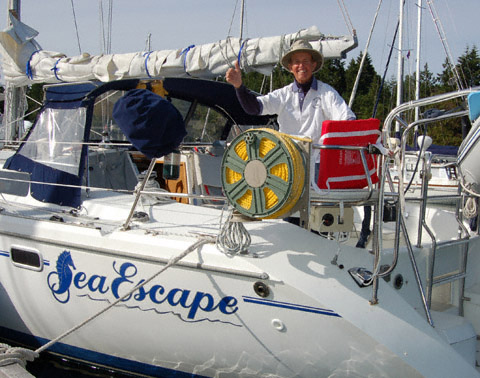 Pictured here safe and dry in the serenity of the Gulf Islands, Ken Grady had a long, hard trip north, which was well worth the trouble.
Photo Latitude / Andy
© 2007 Latitude 38 Publishing Co., Inc.
"We had waves coming right over the dodger," Ken remembers vividly. "At some points there was so much water in the cockpit that it went two feet up my legs to fill my sea boots." Their roughest day was off Cape Blanco, OR, where they saw wind speeds of 40 to 46 kts before ducking into Port Orford for cover. Ken and Joe toughed it out, though, and have since done alternating stints of tranquil cruising through the spectacularly beautiful Gulf and San Juan islands with their wives.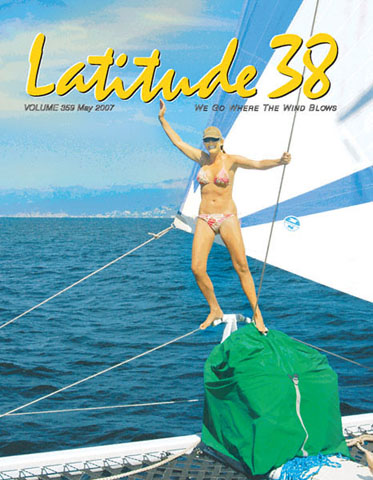 Lisa remains taped to a bulkhead for inspiration.
Photo Latitude / Richard
© 2007 Latitude 38 Publishing Co., Inc.
When we crossed paths with Ken at Thetis Island a few weeks ago, he asked us to extend a special thanks to Lisa, our May issue cover girl, for supplying the inspiration which got him and his crew safely to this peaceful cruising ground. Even after Ken's wife, Willie, joined him, Lisa's cover image remained taped to the bulkhead - symbolizing carefree sailing and fun in the sun.
- latitude / at
---
Let's Go Fly a Kite
July 27 - Crissy Field
If you've been wondering why the sky off the Crissy Field has been lousy with kites the last few days, you've probably been missing one of the most spectacular shows on the Bay. The 1st Annual U.S. National Kiteboard Racing Championship, which started on Wednesday and runs through today, is being hosted at St. Francis YC and features dozens of professional kick-ass kiteboarders competing on a set course.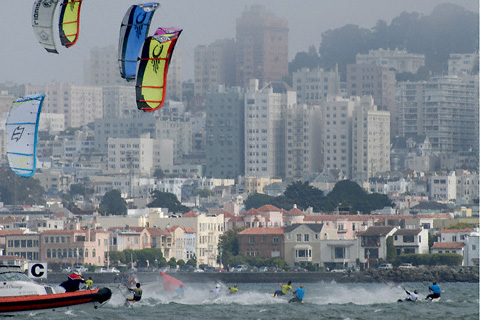 Kiters catch the wind and attention of hundreds of spectators.
© Erik Simonson / www.h2oshots.com
Head down to Crissy Field today for the finals or to www.stfyc.com for results.
- latitude / ld
---