---
---

Photo of the Day

July 25 - Honolulu


(Click on the photo to enlarge it.)
Rose colored glasses - The crew from the Bryan Daniels's San Francisco-based Beneteau 50 French Kiss were just glad to finally get in.
Photo 'Lectronic / Richard
© 2007 Latitude 38 Publishing Co., Inc.

As of last night, only 32 boats had finished the TransPac. With 48 still en route, the 44th edition of this West Coast classic will certainly go into the record books as one of the slowest ever. With reported speeds still averaging 8 knots, if nothing changes, as many as a dozen boats may not even make it in in time for the awards ceremony on Friday.

Of the boats still out there, much interest is still focused on the TransPac 52 drag race between 'the kids' on Morning Light and the semi-pro squad on John Kilroy's Samba Pa Ti. Actually dueling within sight of each other in mid-ocean earlier in the race, Samba took a dive south late Monday and found a bit more wind. Although this means sailing more miles, the strategy has apparently paid off as the latest projections put them 250 miles out to Morning Light's 270. As of this morning, Samba's estimated finish time is between 8:30-9 a.m. HST tomorrow morning, with Morning Light due two to three hours later.

Look for more TransPac coverage in Friday's 'Lectronic, and a complete report in the next edition of Latitude 38, due to hit the stands August 1. In the meantime, check out the race's excellent website at www.transpacificyc.org.

- latitude / at & jr
---
Catch of the Day
July 25 - Honolulu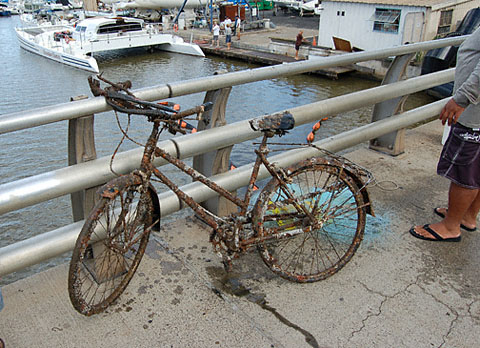 Photo 'Lectronic / Richard
© 2007 Latitude 38 Publishing Co., Inc.
While net casting for mullet where the waters of the Ala Wai Canal met the waters of the Ala Wai Yacht Harbor, two Hawaiian fishermen landed this ancient bicycle, which had become a sealife habitat.
- latitude / rs
---
Advertisement: Charter a 'West Coast Cat' in the Caribbean
July 25 - British Virgin Islands
Three of the four Leopard 45 catamarans in our fleet are owned by Northern Californians. These cats were designed and built specifically for four couple - or big family - charters in the BVIs, as they have four cabins with heads/showers en suite and the most spacious salons and cockpits in their class. Prices range from just $540/week/person in the low season to $820/week/person in the high season. Come find out what your sailing neighbors already know - that sailing a cat in the Caribbean with your friends and family is a blast. We also have a large fleet of monohulls. Having been in business since 1974, we like to think we can answer all your charter questions. So please call us at (888) 615-4006, visit our Web site at www.sailinthebvi.com, or email us.
---
"We Weren't Lost at Sea"
July 25 - Port Angeles, WA
"We weren't lost at sea," wrote Chuck and Laura Rose in response to our July 23 'Lectronic story about their safe arrival in Port Angeles after being reported severely overdue. "We knew exactly where we were at all times.
"We sailed our Albin Vega 27 Lealea out of Honolulu on May 26 (not June 2, as reported) and, in addition to just plain uncooperative wind and sea, we enountered a series of gales after we made our turn to the east, about 1,200 miles from Cape Flattery. That's when our forestay began to unravel. We didn't think it would be wise to hoist a jib for fear that either the stay would break or we would not be able to get the sail back down when we needed to. Our progress was reduced to less than fifty miles a day after that.
"On July 19, while approaching Cape Flattery, we were hailed by several local fishing vessels who had been on the lookout for us. Mahalo nui loa to Captain Roland Gagnon of the trawler Norn who guided us into Neah Bay through dense fog to a berth in the commercial harbor where we were able to get some much needed rest. We have been very moved by the concern shown by the entire boating community here in Northwest Washington for our welfare, from the U.S. Coast Guard personnel to the local fishing fleet and all the residents of Neah Bay.
"We have some work to do on the boat, and we want to spend some time cruising in the Puget Sound area, so, after our late arrival, we're not sure we'll make the Baja Ha-Ha this year, but next year for sure!"
---
Sea Lions Sink Freighter
July 25 - Newport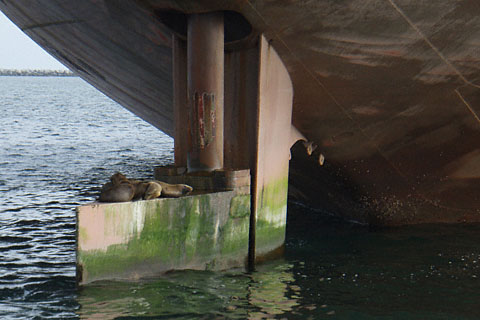 © 2007 Bill Lilly
Well, not yet, but Bill Lilly of the Lagoon 470 Moontide discovered that sea lions have set their sights a little higher than the small boats in Newport. Now they're going for the big ships, like this one anchored off Long Beach.
- latitude / ld
---
Crabills Complete 16-Year Circumnavigation Aboard Tomorrow
July 25 - Ensenada, Mexico
"We have now recovered from the bumps and bruises of the Baja bash," reports Ken Crabill of the Acapulco 40 cutter Tomorrow. Upon their arrival at Ensenada, he and his wife Margaret officially completed a 16-year circumnavigation, westabout, via the Cape of Good Hope and the Panama Canal.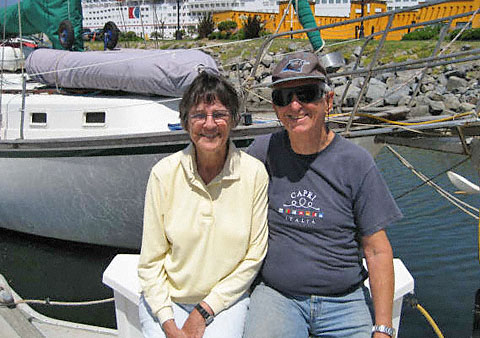 Margaret and Ken Crabill have shared 16 years of ocean adventuring aboard Tomorrow.
Photo Courtesy Tomorrow
© 2007 Latitude 38 Publishing, Inc.
Needless to say, there were many highlights during their years of voyaging, but among the most memorable was their visit to Dili, East Timor, during the tumultuous years before it gained independence. Also, they report, "We were probably the first pleasure boat in 25 years to call in to Myanmar (Burma). . . a very unique and interesting experience." Another highlight was the nine weeks spent at the Solomon Atoll in the Chagos Archipelago, a truly remote Indian Ocean island group with no permanent residents.
See the August edition of Latitude 38 for further details on the Crabills' 16 years of voyaging.
- latitude / at
---