---
---

Transpac Update

July 23 - Diamond Head


(Click on the photo to enlarge it.)
The 94-ft Pyewacket, a victim of light winds all the way across from the mainland, approached the Diamond Head finish line at 23 knots.
Photo 'Lectronic / Richard
© 2007 Latitude 38 Publishing Co., Inc.

It's been one of the slowest TransPacs in history, but the end is finally in sight. The first boats started rolling across the finish line at Diamond Head on Sunday. Pyewacket, the turbo'd 94-ft boat that was modified to both make the most of light breeze and achieve 30 knots with little trouble (but in reality made absolutely no forward progress on a few occasions during the middle of the race), finally turned on the afterburners and passed Kokopelli2 in the early morning. They crossed the finish at 11:11 a.m. Hawaii Time. Although Pye's time of 7 days 1 hour 11 minutes 56 seconds was more than nine hours shy of the course record Roy Disney so desperately wanted, it's still enough to win the Barn Door trophy for fastest elapsed time.


Six of the 19 Pyewacket crew, plus charterer Roy Disney, celebrate the massive last minute project making it to the islands. From top left; Roy Disney, navigator Stan Honey, Robbie Haines, Emirates New Zealand helmsman Dean Barker. Bottow row from left; Roy Disney, Jr., Steve Mason and Rick Brent.
Photo 'Lectronic / Richard
© 2007 Latitude 38 Publishing Co., Inc.


Kokopelli2 - skippered by Chip Megeath of Tiburon and Incline Village, and with largely Northern California crew - followed less than two hours later and cemented class honors in the Santa Cruz 50/52 division. It looks like they'll claim third place overall.
Photo Latitude / Sutter
© 2007 Latitude 38 Publishing Co., Inc.


Next in were the Garnier family on their J/125 Reinrag2. Their finish at 9:51 p.m. assured them the Kalakaua Trophy for overall fastest corrected time. They completed the 2,300 mile course in 10 days 5 hours 51 minutes 35 seconds.
Photo Latitude / Sutter
© 2007 Latitude 38 Publishing Co., Inc.

Reinrag's Division 4 competition Cipango, Bob and Rob Barton's San Francisco-based Andrews 56, finished just minutes later, at 10:18 p.m., for second in class and second overall. Both boats, which opted for southerly routes, report nearly ideal passages, with consistent breeze across the course and boat speed almost never below 10 knots. Quite a difference from what we've heard from nearly everyone else.


Blessed by consistent winds that only Thursday starters got, Bob and Robert Barton of the Santa Rosa-based Andrews 56 Cipango, a cruising boat, finished second in class and second in fleet. Navigator Jay Crum, on his 25th race to Hawaii, had his 19-year-old son Joe along for his first TransPac.
Photo 'Lectronic / Richard
© 2007 Latitude 38 Publishing Co., Inc.

As Pyewacket navigator extraordinaire Stan Honey quipped when asked what he'd do differently if he could do the race over, starting on Thursday, July 12 seemed to make all the difference for the winner this year. (Reinrag and Cipango were among the Thursday starters who rocketed out past Catalina after the start in a steady 15-knot breeze. The last starters on Sunday, including Pyewacket, had just four knots of pressure at best for their start and struggled to get past Catalina.)

Early morning finishers today included Ariadne, Verizon Wireless (ex-Stealth Chicken), Magnitude 80, Tachyon III and Passion. The floodgates will remain open with perhaps as many as five more boats expected before the day is out. Unbelievably, today marks the start of the third week for those boats that started on July 9. Look for position reports, ETAs, and up to the minute finish reports at www.transpacificyc.org.

- latitude / ss
---
Happy Ending for Overdue Lealea
July 23 - Port Angeles, WA
In the July 11 edition of 'Lectronic, we relayed that the Albin Vega 27 Lealea, had been officially reported overdue by the Coast Guard. Owners Chuck Rose, his wife Laura Wong-Rose and their cat Bree had not been heard from since sailing out of Honolulu on June 2 on their way to an Albin Vega rendezvous in Puget Sound at the end of June.
On July 19, the Roses were 40 miles off Washington's Cape Flattery when they heard a Canadian Coast Guard broadcast about their status. They called in, explaining they'd run into some nasty weather when they were about 1,200 miles offshore and their forestay had unraveled. It's unclear if they lost their rig completely but, whatever happened, they were able to safely limp their way to Port Angeles. We're thrilled the Roses are safe and, apparently, none the worse for wear - and not just because they had plans to join this year's Baja Ha-Ha! We'd love to hear from this determined couple, so if you know how to contact them, please ask them to call us at (415) 383-8200 ext. 109.
- latitude / ld
---
'Lectronic Available Everywhere
July 23 - The World
We're excited to announce that you can now keep current with 'Lectronic Latitude while under sail! Thanks to current Puddle Jumpers Steve and Susan Chamberlin, who planted the seed, and SailMail's Jim Corenman, who provided technical assistance, 'Lectronic is available for download via SailDocs, a service of SailMail (although you don't need to be a SailMail user to get it).
To try it out, send an email with the following line in the message: http://www.latitude38.com/LectronicLat/latest.html
Within minutes you will get back the latest issue of 'Lectronic, converted to plain text. You won't get any of the cool color photos that HTML users see when they read 'Lectronic on the Internet, and some longer issues will be truncated due to the 10K limit SailDocs places on file sizes. But as the song says, "A little bit is better than nada."
- latitude / ss
---
Baylis Wins Mayor's Cup
July 23 – Long Beach
Liz Baylis won the ISAF Grade 2 Mayor's Cup women's match race in Long Beach over the weekend. For those unfamiliar with the match race event grading system and how it affects world rankings, this is a pretty big deal - and even more so for Baylis, a former world champion who's working hard with a diverse and talented crew to get back in the top 12 women match racers worldwide so that she qualifies for an automatic berth at the 2008 Worlds in Auckland. A win at an event like the Mayor's Cup, in which three of the eight teams were foreign, can only be out-scored by a win at a Grade 1 event such as the Worlds themselves. Although the next rankings won't be announced for several months, there's little doubt that this win will catapult her up from her current spot at 16.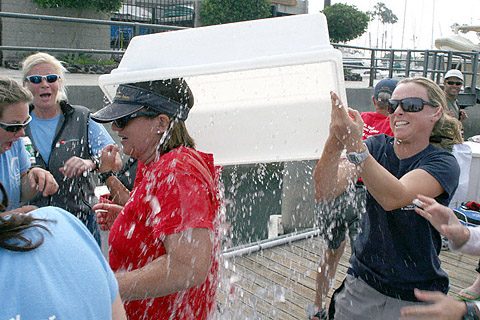 A competitor douses Baylis with ice after her San Francisco Women's Match Race Team sailed to victory on Saturday in Long Beach.
© Sean Downey / www.mayorscuplongbeach.com
Baylis, of San Rafael and sailing for San Francisco YC, won the Mayor's Cup based on cumulative points after light breeze forced the cancellation of the semi-finals and finals on Saturday. After the two round robins, her San Francisco Women's Match Race Team (which, for this race, included Pease Glaser, Ruth Paulling Schock, Shala Lawrence, Denise George, Sue Service, and Karyn Jones) posted a record of 12 wins and two losses. The regatta title was determined by the last race, in which she raced East Coast match racing vet Sandy Hayes. Going into the match, Baylis led Hayes by just one win, and under match race rules, when two teams are tied, the win goes to the skipper who won the most recent race between the top two boats. After a spirited pre-start, Baylis led the match from start to finish. Although at the time, Baylis didn't know that the regatta would end after her match with Hayes, she was certainly aware that a win then would be important. "My mom always said 'Win early and often' and in match racing it's more true than anywhere else," she admitted. Her undefeated first day of racing on Thursday and just two losses on Friday underscored the point.
Charlie Arms of Vallejo, sailing for San Diego's Southwestern YC, finished third in the regatta. Coincidentally, one of Baylis's two losses was to Arms. For daily reports, photos and the full score sheet, go to www.mayorscuplongbeach.com.
- latitude / ss
---
Acronyms Amok in America's Cup Lawsuit
July 23 - San Francisco
Within a week of the Swiss Alinghi team winning America's Cup 32, the Golden Gate YC fired a shot across the bow. This came in the form of a request to become the Challenger of Record for AC 33 - along with a slew of accusations that the Swiss had violated terms of the Deed of Gift (the America's Cup rules). Foremost among these, according to GGYC, was that SNG, Alinghi's home yacht club, had accepted the Spanish team as the Challenger of Record, despite the fact that they did not qualify for COR status because the request had not been made through a yacht club, as the Deed specified it must. (The Spanish AC team sailed under a the burgee of a national sailing organization, not a yacht club.) Sure, the Spaniards quickly cobbled a paper club together, CNEV, but in GGYC's eyes, that was too little, too late. Therefore they should be thrown out and GGYC - the YC of record for Larry Ellison's Oracle campaigns - should be accepted. GGYC's vision is to work closely with SNG to establish fair and even rules for the next Cup competition (as Ellison/GGYC did as Challenger of Record for the just-concluded AC 32), rather than the presently perceived scenario - letting SNG run roughshod over the Deed of Gift, with CNEV happily okaying every change as long as the Cup races stayed in Valencia.
At any rate, SNG never responded to GGYC's July 11 submission. So on Friday, July 20, GGYC issued a lawsuit against SNG to, among other things:
- void the Challenger of Record status of CNEV
- declare the new protocol for the AC 33 (new boat design, allowing defender to race in challenger elimination series, etc.) invalid, since it was agreed to by an unqualified Challenger of Record.
As specified by the Deed of Gift, the suit was filed with Supreme Court of the State of New York, which over the years has heard enough Americas Cup issues that it could be considered the 'spring training' venue for sailing's oldest match race event. So while the real sailors of the last America's Cup are getting over their jet lag and getting back to their lives, the 'farm teams' - the lawyers - are gearing up for their role. Stay tuned.
- latitude / jr
---
New Day's Run Record - and Maybe Transatlantic
July 23 - North Atlantic
As 'Lectronic Latitude goes to press, Franck Cammas and a nine-man crew are streaking across the North Atlantic trying to break the west-east record of 4 days, 8 hours, 23 minutes, set last year by Bruno Peyron's 120-ft catamaran Orange II. In pursuit of the prestigious record, Cammas' year-old 105-ft trimaran Groupama III has already secured another prestigious record, the coveted 24-hour mark. On the second day, after clearing the Ambrose Lighthouse last Thursday to officially start the 2,925-mile transatlantic attempt, Groupama III sailed 794 miles in one 24-hour period, an average of 33.1 knots! This broke the old record, also set by Orange II, by about 30 miles.
G-III fell behind Orange's pace over the weekend but has made up the small deficit and, at this writing, was ahead of Orange and doing about 25 knots in confused seas toward the finish line off the Lizard. If they can maintain the momentum and cross the line around midnight - the current projection - they will have a new record. To see if they made it, log onto www.cammas-groupama.com/en/.
- latitude / jr
---