---
---

Photo of the Day

July 20 - San Francisco Bay


(Click on the photo to enlarge it.)
© 2007 Dale Jennings

Today's Photo of the Day is of Dale Jennings of of the Vallejo-based ferro-cement Samson C-Petrel 37 Penelope standing on the hill above Clipper Cove. Jennings arrived back in the Bay on the morning of June 27 after a 67-day non-stop solo passage from Chile!

"For the return passage I only burned 22 gallons of diesel, and that was mostly for getting clear of the Chilean coast and motoring from Pt. Reyes to Treasure Island in the Bay. I did use about nine gallons motoring across part of ITCZ Zone so I could get across Hurricane Alley before the season got into full swing. I crossed 10ºN on June 2, and crossed 25ºN on June 11. Overall I averaged about 105 miles a day. My best day was 149 miles, my worst was 31 miles. Between 10ºN and 25ºN, I was able to average 140 miles a day.

"The highpoint of the passage was when two finback whales joined me for a lazy sail - I was doing two knots. They stayed with me for over two hours. They got close and swam under the boat when I played classical music and put a speaker against the hull beneath the waterline. I also learned to fry and eat the flying fish that landed on deck at night for breakfast. If you leave the scales on, they are crunchy and don't stick to the pan. The low points of the trip were being hammered by a gale the last two days out of San Francisco, knowing that my boat was nothing but 'sea clutter' to the radar on passing ships."

We hope to have more on Jenning's voyage in the September issue of Latitude 38.

- latitude / jr
---
They Started the TransPac a Week too Early
July 20 - Halfway to Hawaii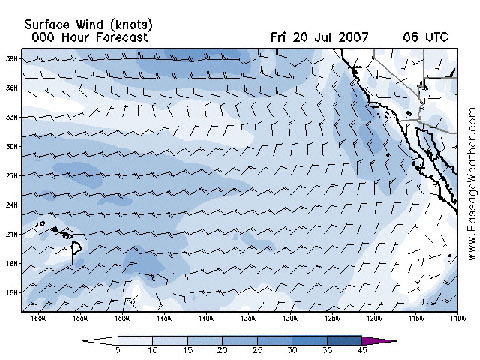 Surface Winds
© 2007 www.PassageWeather.com
As you can tell by today's charts of the surface winds and barometric pressure between the mainland and Hawaii, conditions are just perfect for starting the TransPac. Unfortunately, the starts were a week ago, Monday through last Sunday, when there were often no surface winds and competitors were tearing their hair out trying to find the least horrible way to go - if they moved at all. Even Roy Disney's 94-ft Pyewacket reported speeds as slow as one or two knots. It was only yesterday that things started to pick up, but is it too late? Pyewacket will have to average 18 knots the rest of the way to set a new course record, something everyone thought was assured before the race started. She's capable of that, but will the wind hold? It could be thrilling.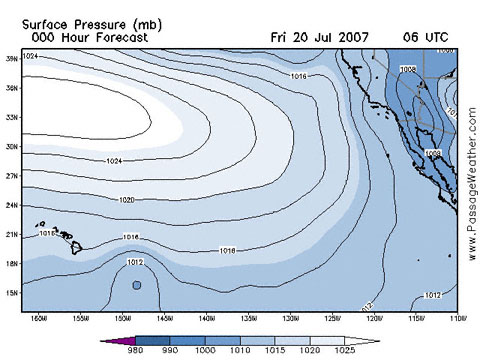 Barometric pressure
© 2007 www.PassageWeather.com
It's unclear how Pyewacket has been doing this morning because, like a lot of other boats, there have been problems with the Flagship tracking service which, for whatever reason, is not functioning properly. With this 'Lectronic having to go to 'press' too early for today's official report, check in with www.transpacificyc.org around noon to get the most recent report.
- latitude / rs
---
Advertisement: Assistant Harbormaster Wanted
July 18 - East Bay
An East Bay marina is seeking an assistant harbormaster. They offer an excellent salary, benefits, and a great working environment! Must work Sundays. Fax your resume to (415) 421-3167.
---
Liferaft Delivery Needed
July 20 - Puerto Vallarta
Danny Colangelo and Kathy Taylor, who live in Puerto Vallarta on their Las Vegas-based Swan 55 Swanfun, have an offer they're hoping some Ha-Ha'er won't be able to refuse. "Sitting in San Diego, ready for repacking, is our six-man liferaft that we need delivered to Puerto Vallarta," explained Colangelo. "This is a perfect opportunity for a Ha-Ha'er who wants the security of a liferaft for the trip to Mexico, but not the expense." The couple will pay for the liferaft's repacking and shipping costs from Mazatlan to Puerto Vallarta. Certainly sounds like a win-win situation to us!
- latitude / ld
---
Baja Ha-Ha Entries Portend Another Possible Record Fleet
July 20 - Baja Ha-Ha Central
"As of July 19, we at Baja Ha-Ha, Inc., have received 205 requests for applications and 71 paid entries for this fall's Baja Ha-Ha," reports Ha-Ha Honcho Lauren Spindler. "This compares with 175 requests for entry packs and 51 paid entries at the same time last year, a year that ended with a record 184 paid entries. So who knows, this year we may push up against the maximum fleet of 200 boats."
By the way, if you're going to Mexico this winter as part of the Ha-Ha or on your own, be aware that berths in high season will be about as scarce as berths in California. For example, we've been told that Marina de La Paz and Costa Baja in La Paz are already all but booked for the high season - heck, they are close to capacity in the off-season - and the same is true with Paradise Resort Marina in Banderas Bay. The one very promising spot is La Cruz Marina on fabulous Banderas Bay. The marina will not open until November or December, and the surrounding development won't be completed until later, but the area has always been among the top five with criusers in Mexico, and if you gotta have a berth, you gotta have a berth. La Cruz Marina is the latest Ha-Ha sponsor, and you can reach Christian Mancebo at 011-52-322-293-4064. The good news for folks who will be actively cruising, as opposed to 'commuter cruising', is that there are free anchorages next to almost every major marina in Mexico.
If you haven't sent for your Ha-Ha packet for this year's two-week event that starts on October 28, please send $20 to Baja Ha-Ha, 401-F Miller, PMB 140, Mill Valley, 94941. And for those of you in Southern California, don't forget that we'll be having the annual Ha-Ha Preview and Reunion at Two Harbors on August 11. It's a very casual event and the group, compared to the real thing, is small, but it's nonetheless fun.
- latitude / rs
For the complete list of entries, see www.baja-haha.com/Alumni/2007Roster.html. Here are the lastest ones:
54) Windchaser II / Piver Victrus 40 / Charles Holt / Newport Beach
55) Emerald Star / Cabo Rico 38 / Ray Horowitz / Santa Cruz
56) Cool Breeze / Catalina 42 / John Beane / Winchester Bay, OR
57) Novakane / 52-ft J/160 / Michael Kane / San Francisco
58) Duetto / Voyage Norseman 430 / Stuart Kaplan / Scottsdale, AZ
59) SoCal SoGood / Beneteau 473 / Richard Merrall / San Diego
60) Tropical Dance / Gulfstar Sailmaster 50 / Daniel Yarussi / San Clemente
61) Itchen / Hunter 37 cutter / TJ Edwards / Tacoma
62) ProMotion / Santa Cruz 40 / West Marine Employees / Santa Cruz
63) Beach Access / Lagoon 380 cat / Glenn Twitchell / Long Beach
64) Syren / 53-ft J/160 / Joseph Christian / Newport, OR
65) Serenity / Catalina 42 Mk II / David Albert / Oceanside
66) Mañana / 33-ft Seawind 1000 / Tom McCarthy / Aptos
67) Footloose / Gulfstar 43 cc sloop / Diane Brown / Emery Cove
68) Maya / Lafitte 44 / Rick Meyerhoff / Sausalito
69) Cirque / Beneteau 42s7 First / Louis Kruk / San Francisco
70) Carpe Diem / Fantasia 35 / David Moore / Alameda
71) Tin Soldier / Waterline 50 / Glen Middleton / Vancouver, BC
72) Aurora / Valiant 42 / Jim Goetsch / San Francisco


---
All is Not Well in the Delta
July 20 - Walnut Grove
Dirk and Violeta Van Ulden of the Belmont-based trawler Se La Vi 2 report that all is not well in the Delta:
"My wife and I have been tying up at the Walnut Grove municipal dock since the early 1990s and have always enjoyed the bucolic surroundings, and the easy walk to various restaurants and shops in both Walnut Grove and Locke.
"Our impression of that perfect location was shattered last Saturday night. We went to sleep at around midnight, and I was awakened at 1:15 a.m. by a snapping noise on the flybridge. When I looked out of the porthole I noticed that we were adrift in the middle of the Sacramento River, floating towards Isleton. Someone had untied us and left the docklines dangling from the gunnels. The noise that woke me was our VHF antenna snapping when it hit the Walnut Grove bridge. Fortunately, it was low tide, otherwise we would have sustained much more damage. I got the engine started and the boat under control, then noticed another set-adrift boat hit the bridge and break their mast.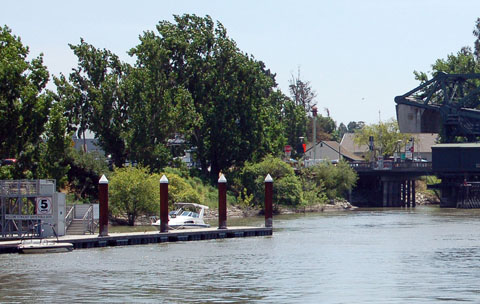 If you see some 'likely suspects' loitering around the Walnut Grove public dock, you might consider using chain and padlocks to tie up.
Photo Latitude / LaDonna
© 2007 Latitude 38 Publishing, Inc.
"I called 911 and was referred to the Sacramento County Sheriff, whose dispatcher was only marginally interested in my story but promised to send out a deputy to take the police report. Back at the dock, a group of young men were clearly agitated as they found their large ski boat was missing (it turned up the next morning in Georgiana Slough). I finally got a call from a deputy around 3 a.m. who took the report and informed me they could not do much as I didn't have any evidence of the perpetrators.

"There are appear to be no real local authorities in Walnut Grove, and the few town representatives who came to the dock in the morning could not do much more than take our names and express their sympathy. We reported to the locals that we noticed 10 to 20 non-native hoodlums hanging out the night before, drinking and playing loud music on the levee road. Few folks in Walnut Grove seem to be willing to acknowledge that they have a problem. Let boaters who make it up the Sacramento River beware."
---