---
---

Photo of the Day: The Fleet Is In

July 18 - San Francisco


(Click on the photo to enlarge it.)
Photo Latitude / JR
© 2007 Latitude 38 Publishing, Inc.

Two Navy 44s are currently sailing the Bay, but just for a short while longer. Later this week, after a two-week stay, the sisterships Lively and Vigilant will continue coast-hopping north, eventually to join the Naval Reserve Officer Training Corps at the University of Washington.

The transfer ot the McCurdy-Rhodes designed sloops to the UW program began at the Naval Academy in Annapolis, where the Navy maintains a fleet of about twenty 44s. They were trucked to San Diego, and groups of Navy midshipmen (and women) have been flying out to sail them north in short hops — or just sail locally, as they have been doing since the boats arrived in San Francisco on July 4. We caught the two 10-person crews out doing a bit of match racing on an all but deserted Bay on Monday afternoon. As the saying goes, rough duty, but somebody has to do it!

- latitude / jr
---
The TransPacific Baby Project
July 18 - South Pacific
Two things cause women to feel nauseous. One is their first offshore passage, the second is being pregnant. Combine the two, and you have what Antonia Murphy of the Pt. Richmond-based Mariner 36 Sereia was feeling last month when she crossed to the South Pacific with her husband Peter, who all but singlehanded the boat.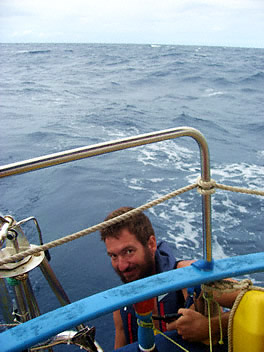 As with any good adventure, there were moments of heroism. Here, Peter hangs off the stern, 1,400 miles out to sea, to re-run the lines for our Monitor windvane.
© 2007 Latitude 38 Publishing, Inc.
"We sailed 2,900 miles from Isla Isabella in the Galapagos to Fatu Hiva in French Polynesia in 26 days. Our Rei-Rei is no speed demon, but she did beautifully. In fact, we racked up our best 24-hour run ever - 148 miles, which means we did better than hull speed for an entire day and night.


Fun facts from Sereia - here's a record of their daily runs.
© 2007 Latitude 38 Publishing, Inc.
"As it was, the combination of seasickness and morning sickness proved overwhelming to Antonia, so while she puked her away across the Pacific, Peter singlehanded the boat, prepared all meals, and did all dishes.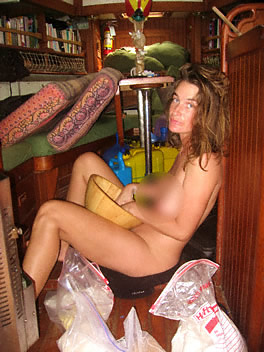 Desperately wanting to contribute, Antonia forced herself to get up - partially - to knead bread.
© 2007 Latitude 38 Publishing, Inc.
"The Baie des Vierges is one of the most spectacular anchorages in the Pacific. It used to be called the 'Baie des Verges,' or 'Bay of Phalluses,' after the great, penis-shaped volcanic outcrops. But the grouchy Catholic missionaries were having none of that, so they added an 'i', and now it just means the Bay of Virgins. Whatever you want to call it, we were seriously glad to get there."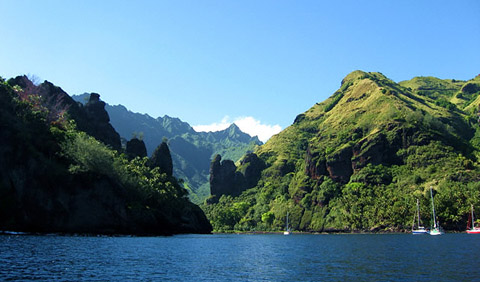 The Bay of Phalluses was a little too risqué for uptight Catholic missionaries.
All Photos Courtesy Sereia
© 2007 Latitude 38 Publishing, Inc.
Read more about Antonia and Peter's adventures on their website www.svsereia.com.
---
'Lectronic Available Everywhere
July 18 - The World
We're excited to announce that you can now keep current with 'Lectronic Latitude while under sail! Thanks to current Puddle Jumpers Steve and Susan Chamberlin, who planted the seed, and SailMail's Jim Corenman, who provided technical assistance, 'Lectronic is available for download via SailDocs, a service of SailMail (although you don't need to be a SailMail user to get it).
To try it out, send an email with the following line in the message: http://www.latitude38.com/LectronicLat/latest.html
Within minutes you will get back the latest issue of 'Lectronic, converted to plain text. You won't get any of the cool color photos that HTML users see when they read 'Lectronic on the Internet, and some longer issues will be truncated due to the 10K limit SailDocs places on file sizes. But as the song says, "A little bit is better than nada."
- latitude / ss
---
TransPac Update: Still Slow Going in the Pacific
July 18 - Pacific Ocean
There's good news coming out of the beleaguered TransPac fleet. Some of the boats that opted for a more northerly route have started to pick up speed. The bad news is that just six boats out of 73 had a 200-mile day or better in the last 24 hours. Even Pegasus 101, the doublehanded Open 50 that reported a stellar 299-mile-day on Monday, managed only half that distance yesterday. Ariadne in Aloha A division, the boat closest to Diamond Head, still has more than 1,000 miles until landfall.
While the lead boats have started breaking out the half-way surprises, the tail enders - namely the TP 52 Trader in Division 3, which has a hair under 1900 miles remaining and averaged a dismal 5 knots yesterday - may not get to start its half-way party for another six days. That is, unless the crew runs out of provisions and raids the treat box before then. The high pressure zones that currently litter the Pacific have already claimed one boat, the Calkins 50 Ginny in Aloha B, whose crew decided after nine days at sea that they were tired of fighting for wind. They retired at 4:30 p.m. yesterday and have turned back to San Diego.
This morning's position report shows the Garnier family's Reinrag2 leading overall and in class, fellow Division 4 boat Cipango, in second overall. Magnitude 80, Morning Light, Denali, Kokopelli2, Tower, Far Far, Ariadne and Cirrus are leading their divisions. It's still too early to make anything of placings, but we'll take the opportunity to remind you that Cipango, K2 and Far Far are all Bay Area campaigns.
Back with the big boats (we didn't think we'd still be saying that on day four), some of the best ocean racing navigators - Honey, Rudiger, Jourdane, White - paid a penance over the last few days for taking a more northerly route. Pyewacket showed progress of 2 knots - sometimes less - yesterday. However, the northerners may have finally found what they were looking for this morning. At 3 a.m., after a brief diversion from her rhumb line course to stay in front of Magnitude 80, Pyewacket reported going 15 knots in a 12-knot northeast breeze. Meanwhile, Rosebud, who had been looking to challenge Pyewacket for first-to-finish honors, and with 2006 Rolex Sydney Hobart winning navigator Adrienne Callahan plotting her course, has found its southerly route may not be all it was cracked up to be. Rosebud's boat speed of low to mid-teens a few days ago melted yesterday afternoon as they hit a high pressure zone and struggled to hit to five knots. Early this morning, they reported a modest 10 knots of boat speed and a heading of 251, but it appears the damage has been done.
Unfortunately, this is about as much info as we can give, as the transponders aboard each boat to track positions have proven to be less than accurate as the race has progressed. Two days ago race organizers reverted to gathering boat positions via the old-fashioned way, radio roll calls, and, in fact, we understand that FIS Tracking Services has started plugging those reported positions into the track charts on the TransPac website.
Meanwhile, the predicted path for Tropical Storm Cosme shows it narrowly missing the Big Island, though obviously it will affect weather patterns as the racers get closer to the islands. Armchair meteorologists can go to www.passageweather.com for a good view on the big weather picture out there. As always, Rich Roberts' daily reports and complete standings are at www.transpacificyc.org.

- latitude / ss
---
The Other Cup
July 18 - San Francisco
It wasn't quite the America's Cup - and perhaps that's not all bad - but eight J/105 teams tested their match racing skills and tactics during San Francisco YC's Belvedere Cup last weekend. There were a few crossovers between the Big show and the local show - top-notch on-the-water umpiring, inconsistent breeze, and even a big spinnaker snafu - but, thankfully, the rest of the AC drama was no where in sight.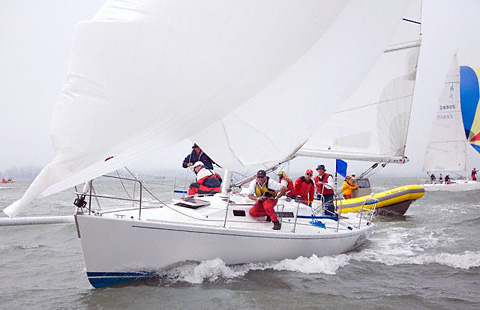 Umpires watch intently from their RIB as Steve Stroub's Tiburon comes down the race track. It was Southampton Shoal, not Valencia, but the action was intense at last weekend's Belvedere Cup.
© 2007 Peter Lyons / www.lyonsimaging.com
Saturday could not have been a more perfect day for the first round robin, with a pleasant 10-knot breeze and flat water on the Southamption Shoal course. An excess of breeze on Sunday cut the short second round robin, but not before Peter Wagner and his crew on Nantucket Sleighride posted a perfect record and won the cup. Bennett Greenwald and Chris Nesbitt, who brought up their Southern California crew for the event, finished second on the chartered Chile Pepper. Complete results at www.sfyc.org.
- latitude / ss
---
All Fired Up
July 18 - Mill Valley
One reader was upset enough over the photo below - published in Monday's 'Lectronic - to cuss us out in an email. He took issue with our "elitist attempt at humor" (we captioned it "A Clean Air Day on the Estuary"), and derided our lack of factual information.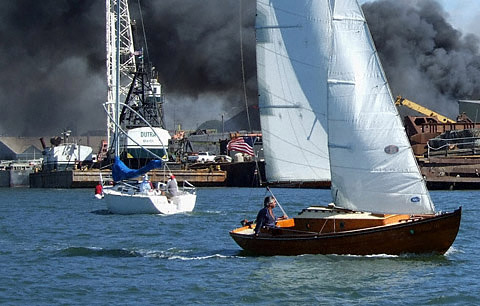 © 2007 Marty Lycan
Point taken. Here are the facts: The smoke was from a three-alarm fire on Alameda on Saturday that destroyed an old warehouse on Clement Avenue. The 200,000-square foot building was once used for ship maintenance, but was vacant at the time of the fire. The fire was reported about 3:45 and brought under control about 5 p.m. Although the building was a total loss, no one was injured in the blaze and no sailboats were damaged or affected in any way.
We've enjoyed many pleasurable sails on the Estuary and certainly meant nothing disrespectful by the silly caption. We just thought it was an interesting photo. Our apologies to Matt and anyone else who felt the same way.
---