America's Cup: Match Point?
July 2 - Valencia, Spain
The outcome of the 32nd America's Cup hangs by a thread, in this case a piece of red sail thread likely belonging to one of Emirates Team New Zealand's spinnakers. Foul-ups with these sails have cost them two races and now there are none left to lose.
As of this morning, the Swiss Alinghi team leads Emirates 4-2, having won Race 6 on Saturday. Were it not for Race 7 being cancelled yesterday, this America's Cup could already be over. Which would be a shame because this is the most exciting matchup between the two best America's Cup teams that we've ever had the pleasure to report on.
The spinnaker foul-ups occurred in Races 3 and 5. In the former, a doused kite jammed in a jib sheet block and hamstrung the Kiwi boat long enough for Alinghi to sail by. In Race 5, the New Zealanders staged perhaps the most spectacular spinnaker fire drill in all of sailing, when one red kite tore, was doused, a second one raised before it was secured on the bottom, a third one raised while the second flailed off to leeward and was later cut loose . . . a bowman's nightmare if ever there was one. In both instances, New Zealand lost the lead. In Race 3, they regained it to win. In Race 5, they couldn't recover. At this level of the game, every mistake costs, some just more dearly than others.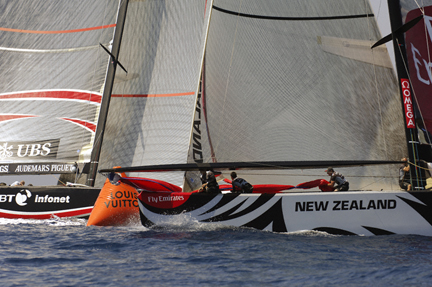 (Click on the photo to enlarge it.)
The Kiwis led the Swiss around the first mark but could they hold the lead?
© 2007 Chris Cameron / ETNZ
Race 6 was business as usual out on the waters off Valencia. For the first time in the series, a nice southeasterly seabreeze in the mid-teens to nearly 20 knots arrived and both boats reveled in it. After an intense dial-up, both boats hit the line at full speed, with helmsman Ed Baird aboard SUI 100 holding a narrow lead over Dean Barker and the Kiwi squad. However, when the boats converged on the top mark, NZL 92 rounded first. The red Kiwi kites - and their lead - stayed intact for the run, but on the second beat, the Swiss found better pressure on the right and edged ahead after a short tacking duel, going on to win by 28 seconds.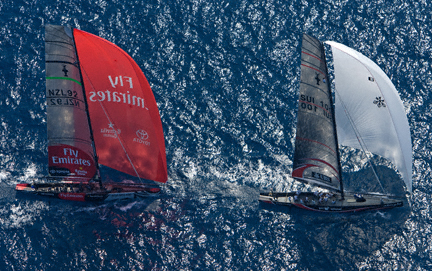 Nope.
© 2007 Ivo Rovira / Alinghi
Race 7 was scheduled for Sunday, but was cancelled when the 5-9 knot seabreeze refused to settle direction, often fluctuating through 50 degrees over the course. Today was a layday. Racing will resume tomorrow at 3 p.m. Valencia time (6 a.m. PDT). If you like to root for the underdog, cross your fingers for Emirates Team New Zealand. Alinghi has, as always, been so well sailed - their only 'mistakes' so far have been choosing the wrong side of the course a few times; easy to do in shifty Valencia breeze - that few pundits hold out hope that Emirates can win three straight, which they must now do to regain the Cup that they lost to Alinghi in 2003.
To follow the racing, get up early and tune into the Versus network, whose excellent coverage is another hallmark of AC 32. Coverage starts at 6 a.m. California time. Or for everything America's Cup, log onto the official Web site at www.americascup.com.
- latitude / jr