Master Mariners Regatta Tomorrow
May 25 -San Francisco Bay
Classic car collectors keep their Duesenbergs and Packards in climate controlled garages and deliver them to shows in trailers. Fans of Lalique crystal keep their collections in glass cases. And then there are classic boat owners. Every year on Memorial Day, they take their boats out the Bay and beat the hell out of them.They call this the Master Mariners Regatta.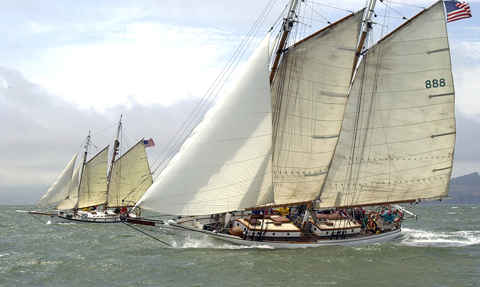 (Click on the photo to enlarge it.)
The spectacular 1924 schooner Brigadoon rolls past Regulus on the homestretch of the Master Mariners Regatta.
Photo Latitude / JR
© 2007 Latitude 38 Publishing Co., Inc.
This year, more than 80 craft ranging in size from the 23-ft Bear Class sloops (finally out of hibernation!) to the 122-ft topsail schooner Lynx will contribute to the spectacle. Many date back to the early 1900s and at least one - the veteran scow schooner Alma - to the 1800s. Back then, the Master Mariners was raced in commercial sailing ships, and the object was to raise money to care for retired sailors and the families of those lost at sea. In those days, winners didn't get trophies. They got useful things like a cord of wood or a ton of potatoes. The potato tradition continues today in perhaps the oddest wrinkle you'll ever read in any sailing instructions: If one of the big schooners can't quite make it around a mark, it will count as a rounding if they can hit the mark with a thrown potato. (Hmmm, maybe they should try that at the America's Cup.)
The Master Mariners Regatta is eminently watchable from the sidelines (your boat), just be aware that some of these guys aren't as maneuverable as your average J/105 - although most of them race just as intensely. So stay well clear if you do spectate. The reverse-handicap starts begin at noon off the Cityfront. But the best viewing is in the afternoon in the Slot around Treasure Island. The wind's up then and the homestretch from Southampton to the finish (below TI) is a smokin' reach. It's quite a show to see two classic schooners, bones in their teeth and every shred of sail flying, powering neck and neck down to the finish.
For more on who's who, and results afterward, log onto www.mastermariners.org.
- latitude / jr