Despite Fire, Catalina Is Ready to Welcome Mariners
May 23 - Catalina Island
"With the Memorial Day start of the busy season at Catalina this weekend, we want everybody to know that the island and all the businesses are ready to welcome you," report Steve and Edie Hollen, who visited the island last Saturday aboard Andalucia, their Irwin 37.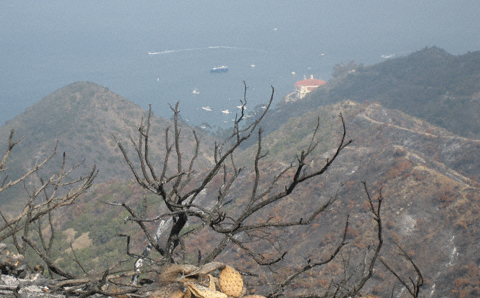 Avalon may look singed around the edges but businesses are ready for the busy Memorial Day weekend.
© 2007 Steve Hollen
"We took a Jeep ride toward Avalon and viewed the damage caused by the fire. It got to within a few hundred yards of White's Cove facilities, but that's it. Avalon is 100% back in operation, although everything to the west of it is on temporary power from a huge generator at Two Harbors. This means that the airport, Middle Ranch, and all the coves and facilities west of Avalon are at the mercy of just one power plant. Even though they are lifting as many as 10 poles an hour, Southern California Edison will still need some time before the Isthmus gets permanent power.
"As for services at the Isthmus, everything is back to normal. Buffalo Milks are just as good, the beer just as cold, the restaurant is still serving great food, and all the animals seem alive and well. The one thing that wasn't working for a while were the phones and wi-fi, but they have since been restored. The bottom line is the island is ready and waiting for your visit."
- the hollens