Sportfishing and Other Interests in Baja in An Uproar
May 21 - La Paz and Cabo San Lucas, BCS
As reported in Jonathan Roldan's La Paz newsletter: "This past week the Mexican government passed NOM 029, the new shark regulations for commercial fishermen in the Sea of Cortez. On its face, it sounds great."
According to supporters - which originally included Greenpeace and still includes some environmental groups in Mexico such as Centro Mexicano de Derecho Ambiental, COMARINO (Conservation of Marine Mammals of Mexico), Defenders of Wildlife Mandeacute xico, International Fund for Animal Welfare (IFAW) and Greenpeace Mandeacute xico - NOM 029 "will make it possible to regulate one of the fisheries with the greatest impact on endangered marine species such as sea turtles, whales and sea lions."
No way, say Roldan and almost all sportfishing interests in the Sea of Cortez. "NOM 029 will basically devastate the Sea of Cortez and all sportfishing as we know it. The law went into effect May 15, and has already resulted in huge protests in Cabo San Lucas and San Jose del Cabo. More than 150 sportfishers jammed the harbor in protest, and one boat was burned. Huge demonstrations have taken place. Both political parties, PAN and PRI, have backed the protestors. One Mexican senator has declared it illegal. Numerous unions - including those for hotels, sportfishing, transportation and others - plus the city council of Cabo San Lucas, have banded together in solidarity and have acknowledged that violence is not out of the question. As the new regulations went into effect on May 15, there were reports of as many as 50-70 commercial boats waiting to enter the Sea of Cortez and start "harvesting."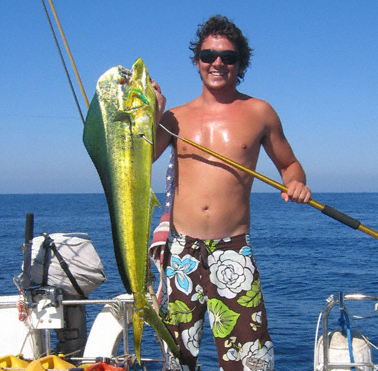 Will NOM 029 result in the dramatic decrease in catches of dorado such as this?
Photo Courtesy Miela
© 2007 Latitude 38 Publishing, Inc.
NOM 029 permits the more than 3,000 operators with permits - each permit can have as many as six boats working for it - to:
1) Fish within the 50-mile protected zone from shore.
2) No bag, size or weight limits on any "incidental catches." Incidental catches can include dorado, marlin, and other pelagic species, which means these commercial boats can take all they want.
3) Lay miles and miles of hooks up and down the Sea of Cortez.
Sportfishing and other interests in Baja are demanding the immediate cancellation or suspension of this shark norma until the following modifications are included:
1. That the 50 mile zones already in the law be respected. This protects sharks as well as all other species which live inside 50 miles of the coast.
2. That incidental by-catch be clearly defined, so that sport fish aren't commercially targeted.
3. That the sportfishing species which have been set aside by the Ley de Pesca for sportfishing be respected and not commercialized.
4. That there is Regionalization of Permits, so that Sinaloa or Sonora boats, where there are even fewer fish, can't come fish Baja.
5. That the Armada de Mexico be in charge of (inspection and vigilance) enforcement.
6. That solid stock assessment and fishing effort data be compiled in a comprehensive environmental impact study which should have been included.
- latitude / rs