Louis Vuitton Cup Report
May 18 - Valencia, Spain
America's sole entry in the America's Cup challenger series went down to defeat once again in the Louis Vuitton Cup semi-final round currently being sailed off Valencia. BMW Oracle Racing, helmed by Chris Dickson, put in a valiant effort, but once again chose the wrong (left) side, and the Italian Luna Rossa team crossed the finish line 23 seconds ahead. After four races, the Italians are now up 3-1. In the other matchup, Emirates Team New Zealand beat Spain's Desafio Español, putting the Kiwi team up 3-1 in that pairing. You will recall that the magic number is 5. The two teams to win 5 races advance to the final round.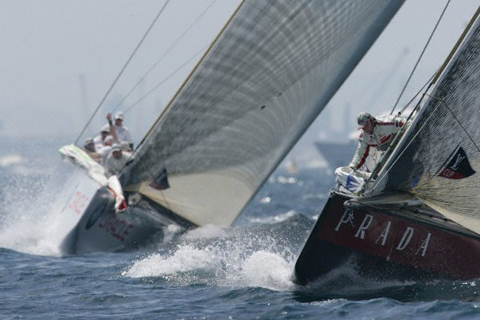 This is Luna Rossa's third time at the America's Cup, and with a two-race lead on BMW Oracle, so far it's a charm.
© 2007 Gilles Martin-Raget
Long the style mavens of the America's Cup, it's little surprise to Cupophiles that the Luna Rossa crew sails as good as they look. The '07 Cup marks this team's third foray into the Cup wars (one more than BMW Oracle), and you will recall that the first time, in 2000, Luna Rossa beat Paul Cayard's AmericaOne syndicate to win the LVC finals, only to be defeated in the America's Cup best-of-nine by Team New Zealand.
Since the nationalism thing has gone out the window for just about everybody, they have also put together a very potent team, including an afterguard composed of skipper Francesco di Angelis, Brazil's Torben Grael, America's Charlie McKee and Australia's James Spithill on the helm. You could write a small book about the accomplishments of each of these guys, but Spithill's might be the most amazing. His first America's Cup was also in 2000 when he skippered and steered the entry Young Australia - at age 19. Ironically, it was also Spithill at the wheel when the Seattle-based OneWorld knocked Luna Rossa out of the 2003 semi-finals. As ever, the America's Cup overflows with intrigue.
Race five is tomorrow. You can view TV coverage of it on the Versus network between 8:30-11 a.m. (times subject to change), or log onto www.americascup.com for play by play.
- latitude / jr