We Don't Mind Swallows, but Sea Lions Are Another Matter
May 16 - Newport Bay
Some animal migrations in Southern California are much welcomed - for example, when the swallows return to San Juan Capistrano on March 19, after their five-month, 6,000-mile winter vacation to Goya, Argentina. Other animal migrations in Southern California are not welcome at all. For example, the return of 25 or so sea lions to Lower Newport Bay in May every year. The problem with these mostly male pinnipeds is that they haul themselves out on low freeboard vessels, and claim them as their territory, barking day and night, disturbing the waterfront residents and preventing many of them from getting any sleep. In addition, most sea lions aren't toilet trained, so the boats they inhabit soon become disgustingly filthy.
Even worse, on some occasions so many sea lions have hauled themselves out on the same boats or docks that they've overloaded them to the point of sinking, creating considerable environmental incidents. In fact, the Newport City Council passed a law that all boats are required to use "the latest methodology to prevent sea lions from boarding boats." Although pinnipeds aren't on the endangered species list, they are protected by the Marine Mammal Protection Act, so there are great limitations on what you can do to prevent them from coming on your boat or dock. You can't, for example, even try to shoo them away with a broom. Among the city's recommendations are such things as motion-detecting scarecrows, which spray water on the sea lions. Oddly enough, sea lions hate getting squirted. The parts for such scarecrows run about $600. Unfortunately, they aren't always effective, such as after a sea lion has rolled over them.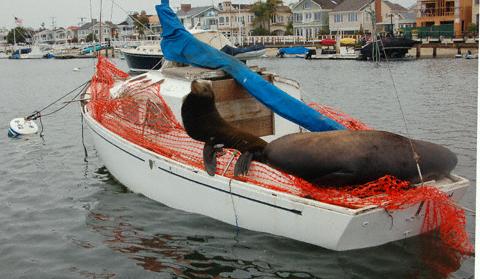 These pesky pinnipeds completely ignored the recommended orange snow fencing one boatowner hung.
Photo Latitude/Richard
© 2007 Latitude 38 Publishing Co., Inc.
It's also recommended that boatowners put netting or orange 'snow fencing' around their boats. A lot of owners have done this, although it's not the nicest look for a very expensive yacht. And it doesn't always work. For example, yesterday we took a photo of the Columbia 24 MK I Kim, on a mooring in Newport Bay. Her cockpit was being occupied - as it had been the day before - by two sea lions in the 300-400 pound category who obviously weren't planning on leaving anytime soon. As instructed, the owner of the boat had put netting and snow fencing around the his entire boat. This wasn't enough to stop the sea lions, who blasted right through the netting, even crushing the stanchions and lifelines in the process.
Some boatowners say that the only real solution is open season on pinnepeds in Newport Bay, although PETA has yet to sign off on the concept. What more, if anything, do you think should be done to control our flippered friends? (Email Richard.)
- latitude / rs