Luis Vuitton Cup Semi-Finals Started Today
May 14 - Valencia, Spain
The semi-final round of the Louis Vuitton Cup began today, and featured a predictable win by Emirates Team New Zealand - and a dramatic loss by the sole American Challenger in this America's Cup series, BMW/Oracle Racing.
To back up a bit, the second of two round robin series ended last week, with the top four boats - Emirates, BMW/Oracle, Luna Rossa Challenge (Italy) and Spain's Desafio Español - going on to the semi-finals, while the remaining seven challengers started packing for home. Emirates was the top-scoring boat in the round robins, which gave them the privilege of choosing their opponent in the semis. They naturally chose the lowest-point team, which was Desafio. That left BMW/Oracle paired with Luna Rossa, which has always been a strong team since they first came to the America's Cup competition in 1992.
"Luna Rossa will be tough," said BMW/Oracle skipper Chris Dickson last week at the conclusion of the round robins. He was right about that. In 8-18 knots of shifty wind, the two boats split up at the start with the Americans going right and the Italians going left. The left was the correct choice, and although Dickson got close enough to threaten the 'Red Moon' once or twice, the Italian boat eventually romped to a 2:19-minute win, a virtual eternity in AmCup racing.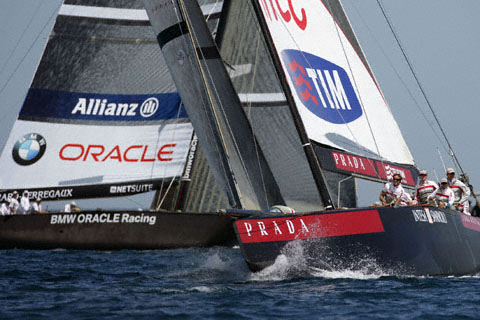 The devils who wear Prada beat BMW/Oracle by a convincing margin in the first race of the Louis Vuitton Cup semi-final round today.
©2007 Gilles Martin-Raget
Over on the other course, Emirates won the start and never looked back, beating Desafio by 43 seconds.
The semi-finals are a best-of-nine series. So each of these match-ups will continue until one boat from each pairing wins five races. The two winners will then advance to the final round. The first boat to win five races there wins the Louis Vuitton Cup - and the right to face Alinghi in the best-of-nine America's Cup match races in late June.
- latitude / jr