The Vallejo Race's Sunday Best
May 11 - Vallejo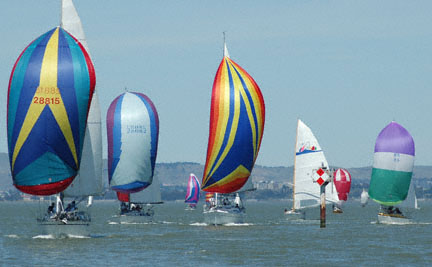 Usually boats round Point Pinole with their spinnakers up on the way to Vallejo, not on the way home. Blame it on a bizarre weather pattern or climate change, but the wind direction definitely made this a Vallejo Race to remember.
Photo Latitude/Sutter
©2007 Latitude 38 Publishing Co., Inc.
We may be overstating things a little bit, but in our minds, last weekend's Vallejo Race was epic for two reasons. One, the 287-boat entry list was the biggest in several years, thus ending a trend that had plagued the race since 2003. And, two, racers on Sunday - many of whom may have still been feeling the effects of the previous night's party - were treated to a beautiful spinnaker reach down the Napa River and across San Pablo Bay rather than the usual pounding slog upwind to the finish near the San Rafael Bridge.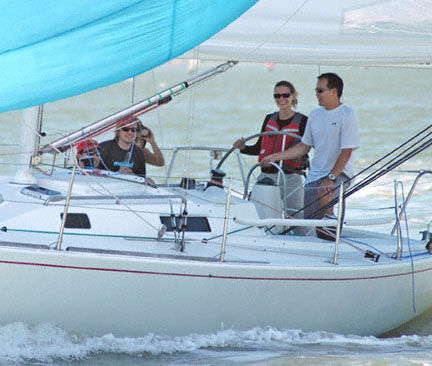 Smiles all around on Donkey Jack
Photo Latitude/Sutter
©2007 Latitude 38 Publishing Co., Inc.
That's not to say the racing wasn't as hot as the weather. After more than two hours of racing, just eight seconds separated the top two Santana 22s, and the first three Express 27s finished within one minute of each other. There were several other very close finishes among the corrected time scores in some of the handicap fleets. Congratulations to the following division winners:
Multihull: Origami, F-24, Ross Stein (6 boats)
Express 27: Freaks ona Leash, Scott Parker (9 boats)
Beneteau 36.7: Mistral, Ed Durbin (4 boats)
Antrim 27: Always Friday, John Liebenberg (1 boat)
SF 180: Topgallant, Newport 30, Frank Hinman (9 boats)
Express 37: Sprindrift V, Larry Wright (7 boats)
Islander 36: Diana, Steve Zevanove (8 boats)
J/105: Cuchulainn, James Mullen (10 boats)
Olson 25: Pearl, Thomas Blagg (4 boats)
Olson 30: Hot Betty, John Scarbourough (2 boats)
Santana 22: Tchoupitoulas, Santana 22, Stephen Buckingham (4 boats)
Vallejo I: Kokopelli2, Santa Cruz 52, Lani Spund (6 boats)
Vallejo II: White Fang, Beneteau 40.7, Mark Howe (7 boats)
Vallejo III: Irish Lady, Catalina 42.5, Mike Mahoney (5 boats)
Vallejo IV: Vitesse, Santa Cruz 27, Barton Goodell (4 boats)
Vallejo V: Kelika, Hunter 33.5, Mike Weaver (8 boats)
Vallejo VI: Wuda Shuda, Soverel 26, Craig Page (5 boats)
Vallejo VII: Antares, Islander 30-2, Larry Telford (6 boats)
Party Circuit G: Velocita, Mumm 36, Mary Mueller/Jeff Christie (5 boats)
Party Circuit H: Vitesse Too, Hobie 33, Grant Hayes (6 boats)
Party Circuit J: Sheeba, C&C 99, Michael Quinn (10 boats)
Party Circuit K: Mer Tranquille, Jeanneau Sun Odyssey, Larry Moraes (11 boats)
Party Circuit M: Latin Lass, Catalina 27, Bill Chapman (14 boats)
Party Circuit SF 30: Fire Drill, Tartan 10, Serge Bisson (8 boats)
IOR Warhorses: Infinity, Holland 47, Gary Gebhard (4 boats)
Complete results at www.yra.org.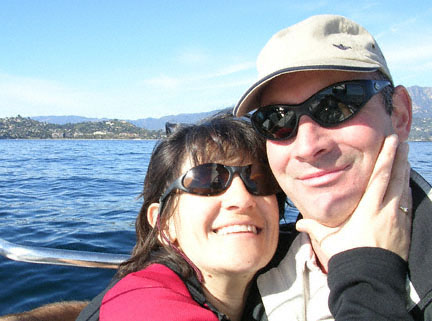 Although they didn't match Saturday's victory with another win on Sunday, Nesrin Basoz and Reuben Rocci got extra credit for doublehanding their Olson 25 Sweet Ness in both directions. "It's one that we won't soon forget," says Reuben. "We were completely whipped by the end of the weekend."
Photo Courtesy Sweet Ness
©2007 Latitude 38 Publishing Co., Inc.

Whatever it is, it's not a Soling! Actually, it's Kris Jensen's Ranger Fun 23 ODR Boondoggle, which raced in the YRA's popular new Party Circuit, which kicked off a five-race series this weekend.
Photo Latitude/Chris
©2007 Latitude 38 Publishing Co., Inc.
- latitude / ss