Big Dogs at the Louis Vuitton Cup
May 9 - Valencia, Spain
Round Robin 2 of the Louis Vuitton Cup the challenger elimination series for the 32nd America's Cup - ended this morning with a much-anticipated match-up between the two biggest big dogs, the high-point BMW/Oracle Racing and
Emirates Team New Zealand. The Kiwis prevailed, putting them atop the leaderboard for the first time in the Round Robin part of the LVC with 38 points to BMW's 37. Points aside for a moment, after 20 races - each team faces each other team twice in the Round Robins - with two points per win BMW and Emirates are tied, at 17 wins apiece. (The final points scores reflect an extra bonus point, that Emirates carried over from the series of pre-LVC acts, prior to the Round Robins.) Off the tops of our heads, we can't remember a Louis Vuitton Series which did not have a clear leader at the end of RR2. New Zealand's Black Magic in 1995 and Alinghi in 2003 both dominated the proceedings by this point in their campaigns. What it means for America's Cup fans is some pretty
exciting racing coming up.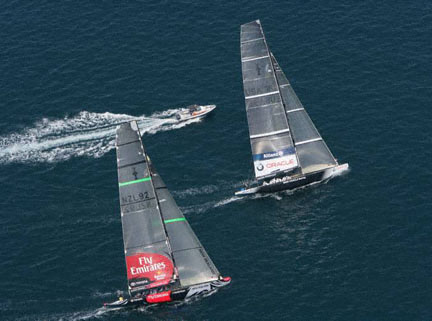 The top two teams matched up today.
©2007 Gilles Martin-Raget
So the four top boats heading into the Semi-Final Round, in order of RR2 ranking are: Emirates Team New Zealand, BMW Oracle Racing, Luna Rossa Challenge (Italy), and Desafio Español (Spain). As noted Monday, Desafio, Sweden's Victory
Challenge and Italy's Mascalzone Latino-Capitalia were all in the fighting for the coveted fourth spot. Desafio lost an important race to Victory Challenge on Monday, but all three syndicates faced the big dogs in the final two races, and all three lost. Desafio ended up holding onto fourth with 29 points to Victory's 26 (Mascalzone had 20). Again, interestingly, the three points this team carried over from the Acts made all the difference between victory and a tie-breaker.
The semi-final round begins May 14. For all the action, rankings and quotes, log onto www.americascup.com.
- latitude / jr