Photos of the Day: Vallejo Race
May 7 - Vallejo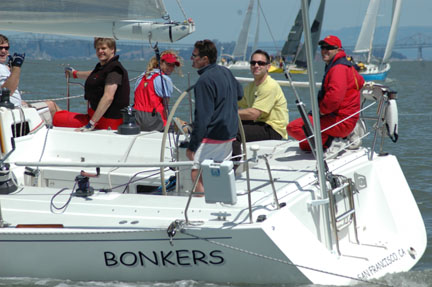 As their smiles will attest, the crew on Bonkers had yet to live up to their name when we saw them just after the start.
©2007 Latitude 38 Publishing Co., Inc.
Sailors in this weekend's Vallejo Race would be forgiven for thinking that the earth had fallen off its axis this weekend as they bashed their way upwind to get to the mother of all Cinco de Mayo parties at Vallejo YC on Saturday. In "normal" years, which has been every year since anyone can remember, the Saturday portion of the race - one of the largest inland sailboat races in the country, and the big enchilada of the YRA racing calendar - is a fantastic spinnaker run across San Pablo Bay. Sunday is usually the long, cruel slog to windward back home. Not so this year, where all 287 boats faced a beat from the start near the Berkeley Circle all the way to the finish off the Vallejo YC on Saturday. Luckily, Sunday's forecast for northwesterlies across the Bay was wrong, and everyone enjoyed a mild, albeit delayed, spinnaker run on the trip home Sunday after the start was postponed one hour to allow boats to get out of the shoaled-up harbor.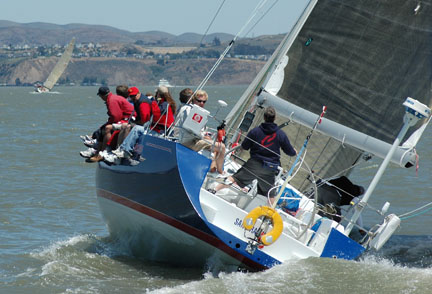 Cipango trails Kokopelli2, seen in the distance, approaching Vallejo. K2 led the 287-strong fleet around the first mark and all the way to the finish.
©2007 Latitude 38 Publishing Co., Inc.
There was other good news to be had over the weekend, however. First, the sun shone all weekend long and you couldn't have asked for clearer skies or more pleasant weather. And second, this year's entry list represented the first increase in entries since 2003. "Stopping the decline was a major goal for my first year as YRA Chair," says Pat Broderick, who sailed his Santana 22 Elaine in the event, "but the real credit goes to YRA executive director Laura Paul whose new ideas and energy made it happen."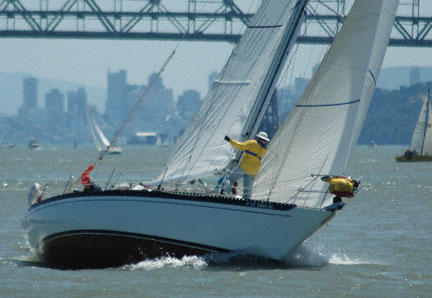 The spinnaker on this boat sits in the bow pulpit, ready for action. It had to wait until the trip home on Sunday to see the light of day.
©2007 Latitude 38 Publishing Co., Inc.
Look for photos of Sunday's race in the Wednesday 'Lectronic. In the meantime, provisional winners in each division from Saturday are as follows:
Multihull: Gaijin, Peter Adams (8 boats)
Express 27: Freaks ona Leash, Scott Parker (10 boats)
Beneteau 36.7: Mistral, Ed Durbin (5 boats)
Antrim 27: Always Friday, John Liebenberg (4 boats)
SF180: Goose, Catalina 30, D. Michael Kastrop (9 boats)
Express 37: Elan, Bill Riess (8 boats)
Islander 36: Captain Hooke, Tom & David Newton (10 boats)
J/105: Taboo, Phil Laby/Rich Pipkin, Mary McGrath (13 boats)
Olson 30: Naked Lady, Jeff Blowers (3 boats)
Olson 25: Sweet Ness, Nesrin Basoz/Reuben Rocci (11 boats)
Santana 22: Carlos, Jan Grygier (4 boats)
Vallejo I: City Lights, Santa Cruz 52, Tom Sanborn (10 boats)
Vallejo II: Stewball, Melges 32, Caleb Everett (11 boats)
Vallejo III: Acabar, Jeanneau 45 Sunkiss, Jean-Yves Lendormy (9 boats)
Vallejo IV: Shenanigans, C&C 36, David Fiorito (8 boats)
Vallejo V: Kelika, Hunter 33.5, Mike Weaver (9 boats)
Vallejo VI: Wuda Shuda, Soverel 26, Craig Page (7 boats)
Vallejo VII: Cheeseburger, J/22, Kristen Lane (9 boats)
Party Circuit G: Astra, Farr 40, Mary Coleman (5 boats)
Party Circuit H: Mintaka 4, Farr 38, Gerry Brown (7 boats)
Party Circuit J: Mon Desir, Jeanneau 36 Sun Fast, Jerry Nassoiy (15 boats)
Party Circuit K: Chimera, Custom Little Harbor 47, C. Grant Miller (13 boats)
Party Circuit M: Boog A Loo, Cal 29, Nancy Rogers (14 boats)
Party Circuit SF30: Shameless, Schumacher 30, George Ellison/Harry Macartney (10 boats)
IOR Warhorses: Aleta, Peterson 46, Keith Brown (5 boats)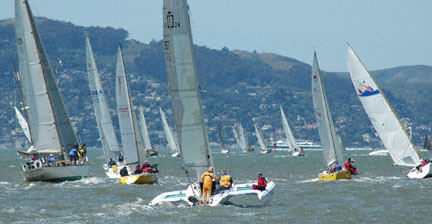 The Vallejo Race is one of the rare opportunities to see multihulls, old woodies, cat-rigged boats and plastic classics lined up on the same race course.
Photos Latitude/Sutter
©2007 Latitude 38 Publishing Co., Inc.
Complete results at www.yra.org.
- latitude / ss & jr