Eight Bells: John Davis
May 4 - Alameda
We're sorry to report that local sailor John Davis passed on unexpectedly last Saturday. An Island YC member and avid Bay racer, he had just spent the day in the boat yard preparing his Laser 28, Peggy Sue, for this weekend's Vallejo Race, and we understand that he was as eager as ever to race with the SF30 fleet again this year.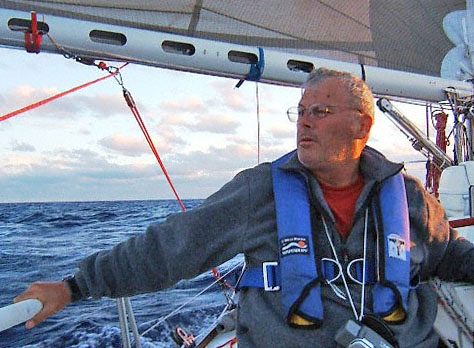 John Davis
Photo Courtesy Davis Family
©2007 Latitude 38 Publishing Co., Inc.
"His many weekends sailing in races on the Bay joined by his two good buddies, Tim Mettier and Kevin Martin, definitely made life complete," says his wife, Peggy. John sailed in the SF30s practically from the fleet's beginning, and almost always on Laser 28s. He was the main trimmer on Joan Byrne's Laser 28 Takeoff, and later owned Jonathan Gutoff's Stink Eye before buying Peggy Sue (which he named for his wife). Last summer, he fulfilled his life-long dream to race to Hawaii when he joined the Lessley family on their Cal 40 California Girl for the 2006 Pacific Cup. They won Div. A and finished seventh overall.
John lived life to the fullest, remembers Peggy. In addition to having a passion for the water, he was an avid rock climber, downhill skier, backpacker and hiker - clearly a man of many interests. "Passing at 60 years is and was, too young, but he was no bystander in life," she says.
Peggy notes that John wanted to be remembered sailing off into the sunset, and as such, no services are planned. Fellow SF30 sailor George Ellison has proposed that the SF30s honor John this weekend by flying 3-ft white pennants from the spreader flag halyard on the way to and from Vallejo. "John would feel terrible if he prevented anyone from missing a day of sailing, much less his beloved Vallejo Race," George wrote to the fleet earlier this week. "We will sail, and we will take John along. He is probably there already."
- latitude / ss