Light Airs Afflict Sailors on Both Coasts
April 30 - Ensenada, Baja California
Excruciatingly light wind isn't limited to Valencia these days. Back in the U.S., racing was postponed at the Sperry Topsider NOOD regatta in Annapolis this weekend when the wind failed to show on Chesapeake Bay for two of the event's three days. Like a Hollywood diva, though, when the wind finally made its stylishly late appearance, it was a sight to behold and racers were treated to sunny skies and a consistent 10-15 knot breeze.
Meanwhile, West Coast racers had their own challenges for the Lexus Newport Ensenada Race, the classic run for the border that departed Newport Beach on Friday. Of the 449 race entries, only 241 boats finished before the 11 a.m. cutoff yesterday. About 20 entries didn't start and an undetermined number dropped out along the way. According to press reports, some gave up the struggle in winds that reached double-digit velocity only briefly, while others - including many of the cruising class boats that comprised one-third of the fleet - motored into Ensenada. To put it in perspective, the first boat to finish was Doug Baker's Magnitude 80, which covered the 125-mile course in 21 hours, four minutes. In February, that same boat did the Puerto Vallarta race - which is 1,000 miles longer - in three days, 15 hours. Ouch!
The Bay Area's Paul Martson of the Corsair 31 Sally Lightfoot sent us the following report:
"Just back from the longest Ensenada I can remember in the eleven years I've skippered it. My crew were Bay Area Multihull Association sailors Amy Wells (skipper of the F-27 WingIt) and Darren Doud (owner/skipper of the F-31R Roshambo). We had light wind from the southwest most of the time. A run-in with a giant kelp paddy added an hour to our elapsed time. We sailed in the new XSracing.org fleet, well organized by Randy Reynolds. Had we raced in ORCA we would have been beaten by Seven Sisters."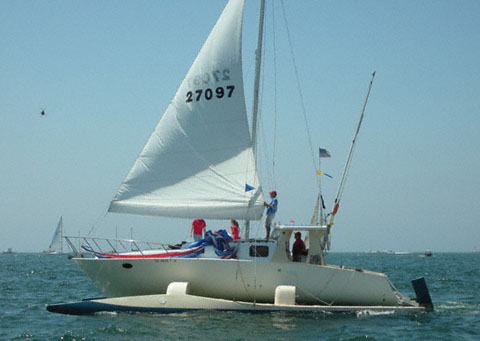 We're not sure what Seven Sisters is, but it just goes to show that if it floats, can be powered by the wind, and is more or less seaworthy, it will be in the Ensenada Race, billed as the world's largest international yacht race.
©2007 Paul Martson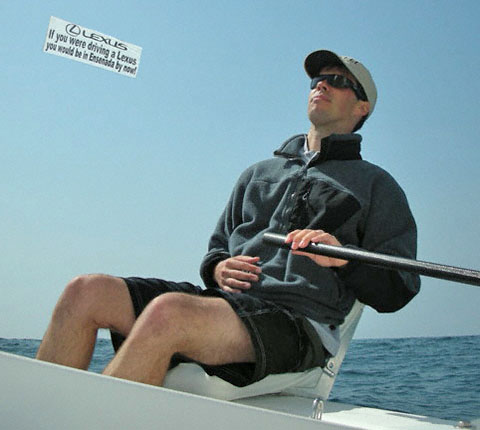 Little did Lexus know how appropriate their banner would be. However, Darren Doud chose to drive Sally Lightfoot, and we suspect that he had no regrets.
©2007 Paul Martson
Results from the Annapolis NOOD are at www.sailingworld.com; results from the Ensenada Race are at www.nosa.org.
- latitude / ss