Adventurer or Crackpot?
April 27 - Hoboken, NJ
By now you've undoubtedly heard of Reid Stowe, the 55 year-old artist who left Hoboken, New Jersey, on April 21 aboard the 70-ft schooner Anne on a 1,000-day non-stop voyage to 'nowhere' - the plan is to follow the prevailing winds around the world as many times as possible during that time. Along for the ride is Stowe's girlfriend of four years, 23-year-old Soanya Ahmad, who admits to having no other sailing experience than daysails on the Hudson. If this sounds familiar to you, it's because Stowe has been trying to get this trip off the ground, so to speak, for several years.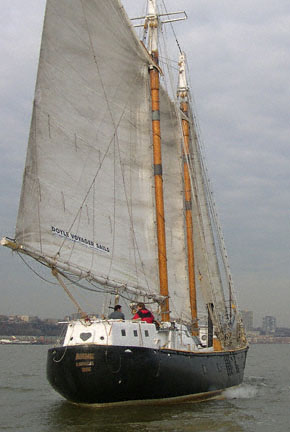 Stowe and his family designed and built the 70-ft schooner Anne in the '70s.
©2007 www.1000days.net
In 2001, Stowe set off on a 'shakedown' cruise of 200 days in the Atlantic, following a course shaped like a sea turtle, with his 26-year-old then-wife. Apparently realizing that kind of trip wasn't for her, Stowe's then-wife soon became his ex-wife.
Then in 2002, there came press releases and news items galore that he was finally leaving on the 1,000-day odyssey, but it seems the trip either ended prematurely or was cancelled, as he was back in New York in 2003. Just in time to meet Ahmad.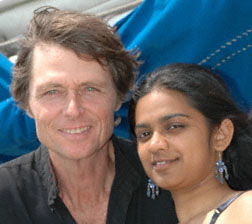 Reid Stowe, 55, and Soanya Ahmad, 23, set out last week on a planned 1,000 day non-stop voyage.
©2007 www.1000days.net
None of this is to say that Stowe doesn't have the wherewithal to take on such a challenge. By all accounts, he's an accomplished seaman and is very earnest in his desire to complete the trip. But a number of people we spoke to had serious reservations, not the least of which is young Ahmad's total lack of experience.
So we leave it to our readers. What do you think about Reid Stowe?
A: He's a total visionary, man! One of the last great adventurers.
B: Can you say 'wingnut'? What's the point, besides publicity?
C: Three years on a boat with a woman half your age . . . that guy's my hero!
Send your answers and comments to LaDonna. To follow Stowe's "Mars Ocean Odyssey" (so name for the length of time it takes to reach the Red Planet), check out the project's Web site at www.1000days.net.
- latitude / ld