Uhuru Owners Ask for Help Finding Their Home
April 25 - San Diego
In Monday's 'Lectronic, we reported that Craig Johnson and Carol Hayes's Vanguard 32 Uhuru was abandoned on April 18 in rough weather near Baja's Cedros Island. Yesterday we heard from Carol and Craig who wanted to tell the rest of their story and ask for help in finding their home.
"We were on our way to Turtle Bay and doing fine," Carol wrote. "The USCG cutter Sherman had contacted us earlier, as we were passing, and I told them everything was fine. Soon after, we were knocked down by a 15-ft wave right on our beam. Craig and I were below when it happened. He was thrown across the cabin and hit his head. When the boat righted, he got thrown back and hit his head again. I have bruised ribs and many marks, but otherwise I'm okay.
"Craig doesn't remember going in the water and I was down below, so we don't know how that happened. We're not sure how long he was in the water, but he says he was really tired when he reached the raft. Thank God he's in good shape and strong willed.
"The Sherman pulled me off Uhuru at 7:15, about an hour after I called the Mayday. Craig was found four hours later - the longest of my life. I can't say enough about Capt. Diaz and the entire Sherman crew. They made a horrific situation better."
Sadly, Johnson and Hayes sold everything to go cruising and were on a "bit of a shoestring" so they didn't carry insurance on Uhuru. "She's our heart and soul," Carol said. "She's our life. All our possessions are on board. Craig did everything to make her our perfect home and he succeeded."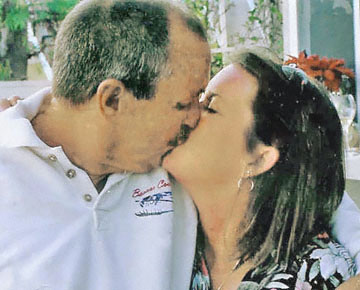 Craig and Carol at their bon voyage party.
Photo Courtesy Glen and Frances Hellings
©2007 Latitude 38 Publishing Co., Inc.
The couple still have hope Uhuru will be found intact, and are hoping Latitude readers may have some suggestions on finding her. "She may be hove to with a triple reefed main and just a few feet of headsail unfurled - the tiller was tied off and the windvane was jammed. I'm trying to find out how to hire a plane to search for her. The Mexican Navy has her on their hot list, I put her info out on the Baja net, and have calls into the Ensenada and Turtle Bay port captains. We're heartbroken and want to do everything we can to find her."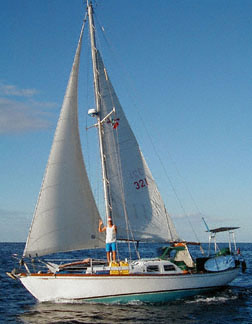 Uhuru - seen here when Mike Miller owned her - was abandoned off the Baja coast last week.
Photo Courtesy Mike Miller
©2007 Latitude 38 Publishing Co., Inc.
Carol and Craig ask that anyone transiting the area near 28° 47'N 116° 06'W keep an eye out for Uhuru. She has a white hull with green canvas and was moving about 3.5 knots at 175-200°. "I just want to say," Carol added, "you read about these kinds of things in Sightings, but never expect it to be you. We were fine. She was riding great and then . . ."
If you have any information on Uhuru's whereabouts, or suggestions on hiring a search plane, please email the couple.
- latitude / ld