Surviving a Twice-Flipped Cruising Cat
April 20 - Off the West Coast of Florida
It's rare for a cruising cat to flip, but even rarer for one to be flipped twice. But that's what happened to Paradox, a cat most recently owned by Tom and Stanna Galbraith of Durango, Colorado, which started life in '96 as an F/P Tobago 35. We're not sure how the cat came to be upside down in Belize's Rio Hondo in '01, but it's our understanding - from some fascinating video on the couple's Web site - that using a small tug, they managed to right the cat. Having been upside down long enough for there to be growth several inches long throughout the interior and deck of the boat, it was one disgusting mess. Nonetheless, the Galbraiths obviously saw possibilities, and after what had to be endless months of dreadful work, they ended up with a cat, stretched to 38 feet, that looked damn good. And based on other photos on their Web site, they had a ball cruising the western Caribbean.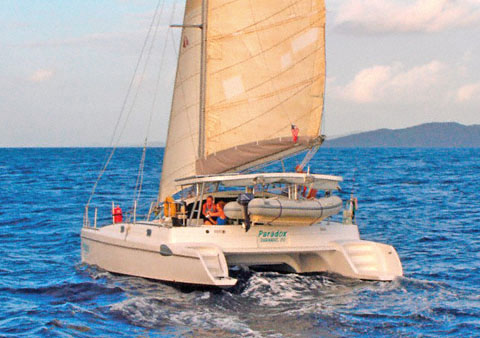 Paradox looking sweet after being flipped right side up and being restored.
On April 11, however, the couple were sailing from Key West to Tampa when a squall suddenly increased the windspeed from 11 knots to 48 knots. The cat flipped immediately. Either just before or just after, 60-year-old Tom grabbed his wife, and knowing that the cat wouldn't sink, pulled her into the hull where they had tools and wetsuits. While it had to be creepy inside the overturned hull, they knew the cat wasn't going to sink and that there was plenty of oxygen. Having heard only one ping from their EPIRB, Tom realized that the signal wasn't getting out. So the next day he drilled a hole in the bottom of the hull - which was now above their heads - and stuck the EPIRB antenna out. The EPIRB immediately started pinging away. Coast Guard Miami got the signal and launched a search plane at 5 p.m., and found the overturned cat an hour later some 171 miles southwest of Tampa. A rescue helicopter arrived on the scene at 8:30 p.m. and hoisted the couple aboard. Neither Tom nor Stanna had suffered injuries and both declined treatment. On the other hand, they apparently don't have any interest in restoring the cat a second time.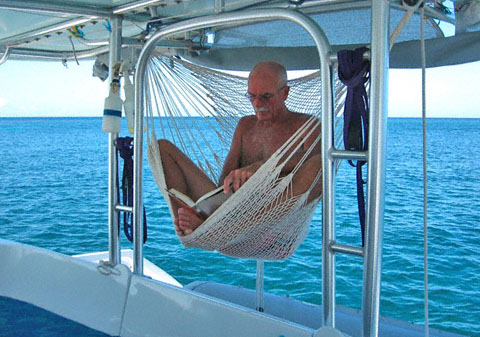 Tom Galbraith hanging out on Paradox in Honduras.
Photos Courtesy Paradox
A word to the wise: All other things being equal, as cats increase in length, they become much, much more stable.