Weekend Racing Roundup Part 2
April 18 - San Francisco Bay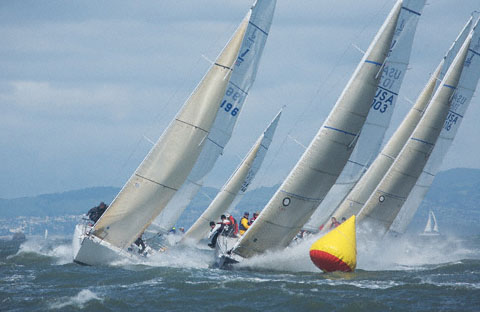 J/105s rounding the top mark in the windy and wet third race on Saturday.
©2007 Peter Lyons/www.lyonsimaging.com
As promised, here's the rest of the story to last weekend's racing. You'll recall from Monday's 'Lectronic that we said Friday night's beer can races started the weekend on a good note, and Saturday had something for everyone - rain, calm, sun and wind. At South Beach YC, 15 boats tried to cure their case of Spring Fever with a couple of races on Saturday. Don Sellers' Dehler 39 Josie topped the 'quick boats' fleet (PHRF 120 and below), while Bill Hackel's Islander 36 Highlighter led slower boats (PHRF 121 and above) with two bullets.
Meanwhile, on the Central Bay several boats ran into trouble - or had trouble run into them - as the wind piped up Saturday afternoon. Among the victims were Timo Bruck's J/120 Twist and John Hunt's J/24 Mr. Toad, who both fell prey the same J/24 in separate incidents on the Cityfront during J/Fest. (Adding insult to injury, Twist ran aground just east of St. Francis YC not long before she was hit.) We're told that prior to the two collisions, the owner of the at-fault J/24 had a nearly spotless record during 20 years of racing. Let's hope he got it out of his system.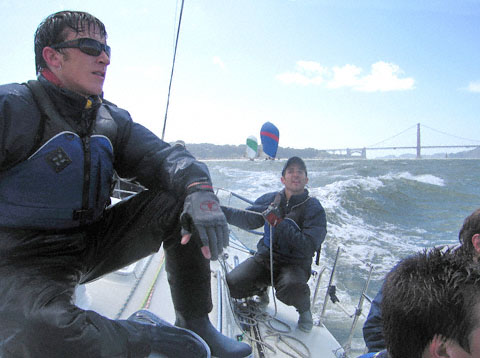 Onboard Barry Lewis' Chance as the J/120s truck down the Cityfront in 30 knots of wind.
Photo Laura Watt
©2007 Latitude 38 Publishing Co., Inc.
Over at SFYC' s Resin Regatta, inconsistent sailing instructions led to some confusion in race two about how to round the leeward gate. Most fleets figured it out, but a confused Alerion Express and a Melges 24 literally crossed paths near the gate during the second race, resulting in damage to the Melges' starboard rail. With a temporary patch back at the dock that night, the Melges was back out on the race course the next day.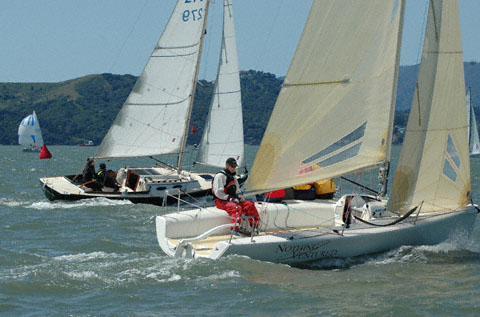 Talk about a study in contrasts. Nothing Ventured passes to leeward of Mil Besos on Sunday during the Resin Regatta. This wasn't the only time a Melges 24 and an Alerion Express 28 faced off during the Resin Regatta.
Photo Latitude / Sutter
©2007 Latitude 38 Publishing Co., Inc.
Speaking of the next day, what a difference! On Sunday racers were treated to clear skies, winds in the mid-teens, and just enough current to keep the game interesting. A perfect day, and for some sailors, a perfect weekend. Three boats - Russ Silvestri's Etchells 22, Alan Field's Melges 24 and Chuck Eaton's Alerion Express 28 - smoked their Resin Regatta divisions with straight bullets, as did Ed Walker's Casual Contact in J/Fest's J/24 division. Full results from all races are online: www.stfyc.com (J/Fest); www.sfyc.org (Resin Regatta) and www.southbeachyc.org (Spring Fever).
- latitude / ss