Weekend Racing Roundup
April 16 - San Francisco Bay
In case you missed it, this weekend was a story of extremes and demonstrated that Mother Nature is still working out the kinks of spring before we get to receive the blessings of summer.
The prelude opened Friday night with a lovely, albeit light evening for Beer Can racers around the Bay. Is there any better way to cap off a work week?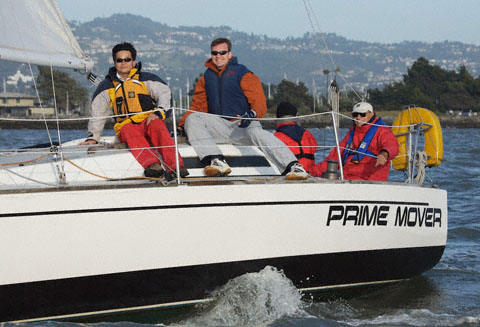 Prime Mover enjoys prime conditions during the second race of Berkeley YC's Friday night series.
©2007 Peter Lyons/www.lyonsimaging.com
Chapter One - the 54th annual running of the bulls in the El Toro fleet, otherwise known as the Bullship - came around early Saturday morning with plenty of the wet stuff falling from the sky. All but two of the hardy Toro sailors who'd signed up for the race came to the starting line anyway, and all but one of those who came finished. Winner Will Paxton covered the course from Sausalito to San Francisco in less than 50 minutes. Not a record-setting pace, but mercifully quick for an 8-ft dinghy in driving rain. Will's dad, Fred, finished second, and Gordie Nash rounded out the podium finishes in the 29-boat fleet.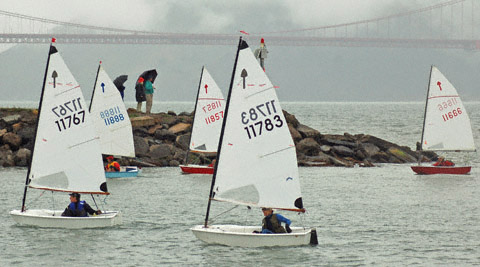 The Toro fleet and the spectator fleet braved the elements for Saturday's Bullship.
Photo John Riise
©2007 Latitude 38 Publishing Co., Inc.
The second chapter - the climax, if you will - hit Saturday afternoon and featured clearing skies, a big ebb and wind upwards of 30 knots on some parts of the Bay. Can you say 'wet'? J/Fest racers on the Cityfront saw the best of the action, although those sailing in the Resin Regatta on the Berkeley Circle and South Beach YC's Spring Fever certainly had their fill of the fun as well.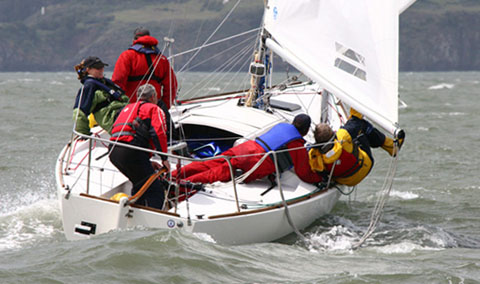 The J/Fest sailor above managed to stay on this J/24 with some timely help from his friends.
©2007 Chris Ray/www.crayivp.com
We'll have the rest of the story on Wednesday, with more photos from Chapter Two and a summary of Sunday's stunning Grande Finale. If you're a CliffsNotes kind of person, go to www.stfyc.org for J/Fest results and www.southbeachyc.org for Spring Fever results. Scores for the Resin Regatta should be available at www.sfyc.org later today.
- latitude / ss