Photos of the Day
April 13 - Mazatlan, Mexico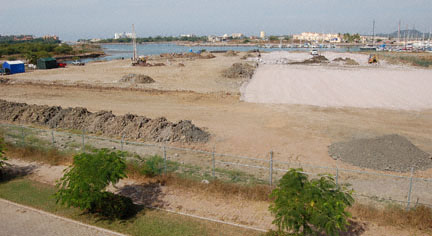 The Singlar site in Mazatlan as it looked in late '05.
©2007 Latitude 38 Publishing Co., Inc.
Today's two Photos of the Day demonstrate that it's 'not your father's Mazatlan' any longer. In fact, it's not even your older brother's Mazatlan. The first photo, taken a little over a year ago, shows the northern cruiser end of Mazatlan how most people remember it - vast open spaces, with some signs of development. The second photo, taken a short time ago by Mike Latta of the 22-ft Falmouth Cutter Narwhal, shows that the Singlar haulout facility - which is pretty darn snappy looking - has been completed and that there is other significant progress around it.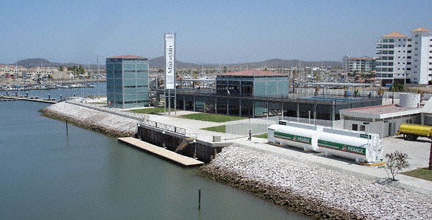 Give credit where it's due, the Singlar facility looks first class. To us, it's indicative of how much of coastal Mexico is moving to higher standards. With billions of American investment dollars pouring in, the old schlocky stuff is just not going to cut it.
©2007 Latitude 38 Publishing Co., Inc.
Latta explains: "If you haven't sailed into Marina Mazatlan harbor lately, my adopted homeport for the last five years, you won't recognize the place. There have been big, big changes. If it ever was a secret, it's out now, as the surrounding area is being built up at a frenetic pace. What not too long ago was simply dune grass and iguana trails is now or soon will be, hotel/condos, homes, offices, restaurants, business mini-malls, shops, a Pemex station and a sprawling golf course development. A convention center is also in the works. We've been discovered! Ah, progress.
"But even to traditional barefoot minimalists, including old farts such as myself, it ain't all bad. The big and modern Singlar haul-out yard that is about to open here in the harbor next door to Marina Mazatlan is going to make a significant difference to us all. And it looks to be first class all the way. Included within the large facility will be individual fiberglass and painting shops, a ferreteria (marine hardware), a customs expediter for importing our boat stuff, a store catering to cruisers' special provisioning needs, plus multiple other shops and services - including a fuel dock. On the second floor there will be a Club Nautico YC with outside deck bar, restaurant, swimming pool - and a Jacuzzi big enough for the entire crew of Profligate.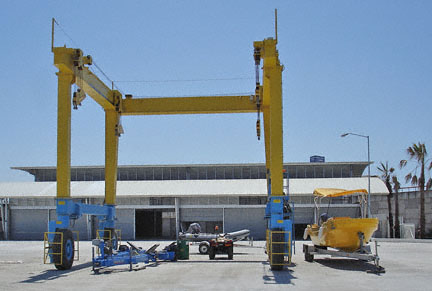 Singlar's facility is just about ready to give your boat a lift.
©2007 Latitude 38 Publishing Co., Inc.
"Bob Buchanan, the authorized Yanmar guru in Mexico, had his Total Yacht Works selected as the primary service and repair outfit to be based at Singlar's two-story workshops. I know that Bob will be glad to finally be able to remove his stock engine parts, gear and other essential inventory off his Bolias Dream and into the onsite shop. next door, in one of the new mini-malls, Antonio Cevallos, our recent and much loved harbormaster, will apparently be opening a chandlery and stocking marine paints. Both would be much welcomed. Other local marine businesses - marine canvas, sail repair, refrigeration, dinghy repair - may also soon move off the docks and into more traditional working spaces. Build it and they will come, right?
"Marina Mazatlan recently changed ownership, and Jaime Ruiz, the new harbormaster, assures us that many harbor additions are in the works. New docks and dinghy landings are scheduled to be completed this summer, and the E Dock section over on the Isla has been purchased and is now available. A new connecting dock has been proposed to tie it in with an extended Dock 9 to the other side of the harbor.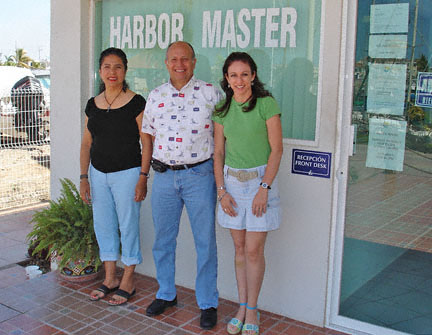 Marina Mazatlan Harbormaster Jaime Ruiz with two of his assistants, Carmina Gomez (left) and Elvira Lizarraga.
Photos Mike Latta & Latitude/Richard
©2007 Latitude 38 Publishing Co., Inc.
"Jaime is an old hand at things marine, having spent years in Barra Navidad producing international sportsfishing tournaments. In between, he'd find boats in Texas and Florida in need of TLC, and deliver them back via the Panama Canal to Barra, where he reconditioned them for resale. He'd even redo the engines himself. This man knows boats! As the president of Club Pesca, Mexico's sportsfishing organization, for the past 18 years, he is presently in the midst of creating a big tournament to be held out of the marina in May. He's also discussing with the government the need to widen, deepen and extend the breakwaters of the harbor's entrance channel.
"So big change is in the works at Marina Mazatlan - and it ain't bad."
- latitude / rs