Got Crew?
April 6 - San Francisco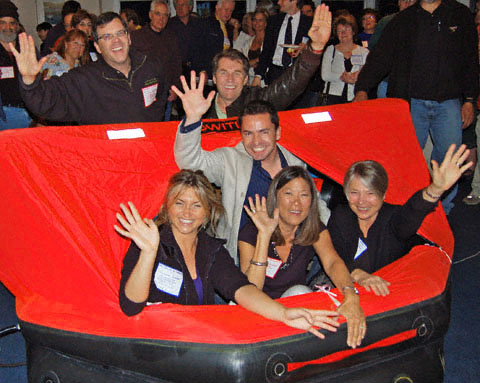 No Crew List Party would be the same without Sal's liferaft demo. Jami Ballantine, bottom left, is so eager to get a crew spot on a boat, she was the first to hop in.
©2007 Latitude 38 Publishing Co., Inc.
If you didn't make it to the Latitude 38 Spring Crew List Party at the Golden Gate YC on Wednesday, you missed a great time. While Latitude staff were busy playing matchmakers, hundreds of connections were made by Bay Area - and at least two out-of-area - sailors.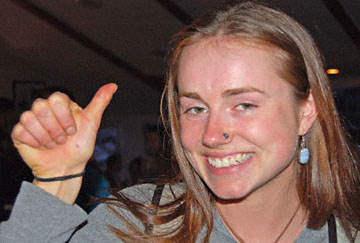 Zoe Parsons wants to hitch a ride south this fall.
©2007 Latitude 38 Publishing Co., Inc.
Zoe Parsons, 23, lives in Sitka, Alaska, but was visiting her parents in Eugene, Oregon, when she heard about the party. Jami Ballantine, 27, flew down from Seattle at the urging of a family friend. Both are eager to crew on boats heading south this fall so if you have a spare berth, shoot these adventurous gals an email. Email Zoe here and Jami here. Neither are looking for romance, just adventure.
But love has been found at many a Crew List Party. Just look at Ethan Hay and Alexandra Cantin. They met at last year's party and now Alexandra is due with their daughter in July. "Ethan works fast," Alexandra noted wryly.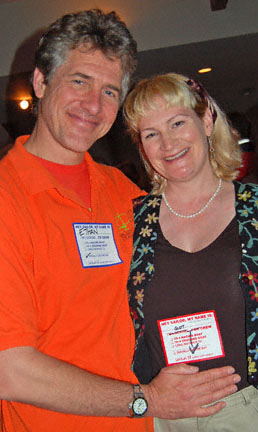 Ethan and Alexandra met at last year's party. Their newest crewmember is due July 23.
Photos Latitude/LaDonna
©2007 Latitude 38 Publishing Co., Inc.
If you missed the party and didn't make it onto the Crew Lists printed in the March and April issues of Latitude 38, it's not too late. Go to www.latitude38.com/crewlist/Crew.html and start making calls. Summer's right around the corner!
- latitude / ld