Weekend Racing Recap
April 4 - San Francisco Bay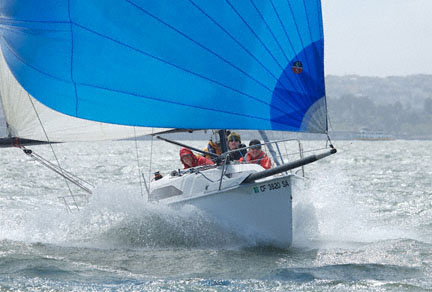 Peter Cook's Ultimate 24 flies downwind during the Wheeler Regatta pursuit race.
©2007 Peter Lyons/www.lyonsimaging.com
Takin' the J/Train to the Lightbucket
Another weekend, another race to the Lightship. This time it was the St. Francis YC-hosted Ocean Race for J/105s and J/120s, which had a gorgeous day on Saturday for their 25-mile journey against the current both ways. Tim Russell's Aquavit topped the 17-boat J/105 fleet, and Barry Lewis' J/120 Chance finished first among the seven J/120s.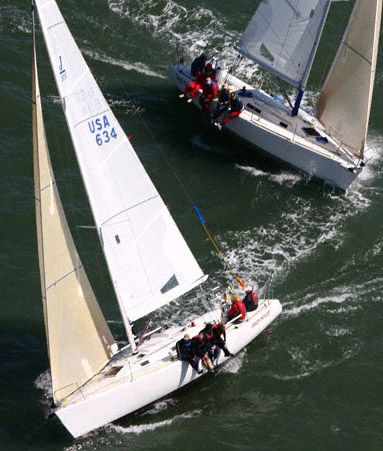 Brick House and Good Timin' crossing tacks under the Golden Gate Bridge. Credit: Chris Ray/www.crayivp.com
©2007 Chris Ray/www.crayivp.com
Unfortunately, it was not peaches and cream for everyone. Reports Gary Kneeland of the J/105 Orion: "Winds were NW 17-21 knots with the occasional gust over 25 knots, 4 to 8-ft waves, and a big ebb that afternoon. The 105s that made it around the buoy were coming back doing high teens and an occasional 20 knots. We were really looking forward to that ride back in." A close encounter with the Lightbucket dashed Kneeland's hopes for an E-ticket ride home, however. He snagged Orion's backstay on the buoy and the mast came tumbling down. Thanks to good crew work, the rig and sails were cut away and no one was hurt. Kneeland is quick to claim that the dismasting was due to "operator error" and is hopeful that others will learn from his mistake. We'll have more on what happened in the May issue of Latitude 38. In the meantime, see full race results at www.stfyc.com.
Big Dinghy on the Richmond Riviera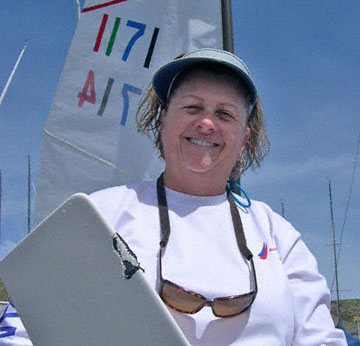 El Toro guru Vickie Gilmour shows off the damage to her daggerboard after an incident with Bradfute Rock near Brooks Island during Sunday's Big Dinghy Pursuit Race. Suffice to say it didn't pay to hug the shore.
©2007 John Dukat
Inside the Bay, there was plenty of racing on boats big and small. The Big Dinghy at Richmond YC attracted a wide assortment of small boats for Saturday's fleet racing on three courses and Sunday's pursuit races. On Sunday 'big' boats were sent on a marathon course around Red Rock, Southampton and Brooks Island. (Okay, it was only a half-marathon - 13.5 miles. It just seemed like a marathon.) Top spots went to Jim Malloy (Wylie Wabbit), Finn-Erik Nielsen (29er), and Del Olsen (Int. Canoe). Over on the short course for the little boats, Tom Burden (Laser) won the circumnavigation of Brooks Island, followed by Doug Cefali (Laser), and Doug's daughter Lauren (Opti). Complete results from both days are at www.richmondyc.org.
Rollo Wheeler and the City of Berkeley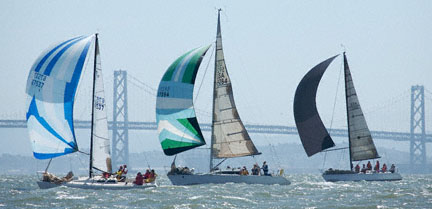 Wheeler Regatta Spinnaker Parade
©2007 Peter Lyons/www.lyonsimaging.com
And over on the Berkeley Circle, Berkeley YC's Wheeler Regatta drew a crowd on two courses for a couple of buoy races on Saturday and a pursuit race on Sunday. Tom Nemeth's Olson 25 Clean Sweep swept the City of Berkeley trophy, while Bill Riess's Express 37 Elan won the Wheeler trophy. See complete results at www.berkeleyyc.org.
- latitude / ss