Rites of Spring Regatta
March 19 - Alameda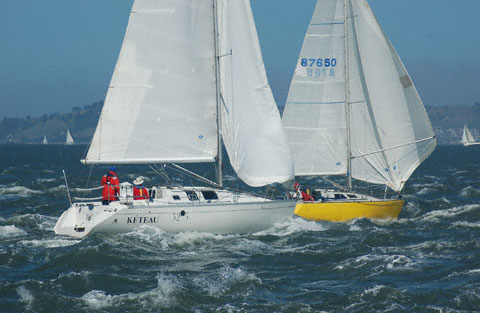 Keteau and Tainted Love in the washing machine off Angel Island's Point Blunt
©2007 Latitude 38 Publishing Co., Inc.
Oakland Yacht Club's 19th annual Rites of Spring Regatta, for single and doublehanders, lived up to its name on Saturday as an event-high 76 boats 'earned' the new season on Saturday with stiff breeze, choppy water and a big ebb. In another hallmark of spring sailing, the ROS racers sailed out of fog into brilliant sun, returning to the fog to finish. With 15-25 knot winds over the course, all 10 fleets were given 10-12-mile courses, starting and finishing near the Berkeley Pier.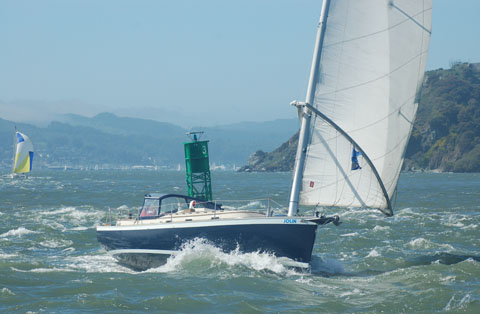 The Nonsuch 30 Jolin lets it all hang out.
Photos Latitude/JR
©2007 Latitude 38 Publishing Co., Inc.
There was lots to talk about post-race at OYC. Like the tiller coming off one boat sailing past Angel Island, which caused a roundup and blown spinnaker. The experienced skipper and crew soon had things back under control. Then there was the boat where, during the process of removing a spinnaker wrap, the boat took a roll and the foredeck guy found himself hanging onto the pole 6 feet away from the boat. Fortunately, a roll the opposite way deposited him back on barco-firma. But none of that held a candle to the story told by Ben Haket and Bernard Slabeck on the Mull 22 Straitjacket. They were sailing downwind under spinnaker when the headstay came off. It didn't break - apparently the pin on the clevis just came out. Slabeck went forward, fixed the problem . . . and then fell overboard! He immediately started grabbing for handholds as the boat slipped by, thankfully latching onto a fitting near the stern where Haket was able to help him back aboard.
Division winners were:
DOUBLEHANDED
Max Spin A - Lilith, WylieCat 39, Tim/Karin Knowles
Max Spin B - Lotta'tude, WylieCat 30, Jonathan/Tim Bloom
Min Spin - Green Onions, Moore 24, John Tuma/Saul Schumsky
Max Non Spin - Q, Schumacher 40, Glenn Isaacson/Todd Hedin
Min Non Spin - Arabella, Alerion Express 28, Harry Allen/Henry Culp
Catalina 34 - Crew's Nest, David Irvine/Bob Brainard
Santana 22 - Maguro, Pete Trachy/Tom Partredge
Multihull - Three Sigma, F-27, Chris Harvey/Phil Jenkins
SINGLEHANDED
Spin - Emerald, Yankee 30, Peter Jones
Non Spin - Deva, J/100, Steve Ripple
Complete results: www.oaklandyachtclub.com
Tune back in on Wednesday, when we'll have coverage of St. Francis YC's Spring One Design Regatta.
- latitude / jr