Velux 5 Oceans Update
March 1 - Atlantic Ocean
After rounding Cape Horn a week ahead of his nearest competitor, and nearly two weeks ahead of the remainder of the fleet, it should come as absolutely no surprise that Bernard Stamm is poised to win leg two of the Velux 5 Oceans race. He's currently 200 miles southwest of Bermuda and 500 miles from the finish line in Norfolk, Virginia. His 14-knot average over the last 24 hours, combined with a forecasted increase in wind speed from a huge low-pressure system over the northeastern U.S., means that race organizers expect him to arrive in Norfolk on Sunday morning.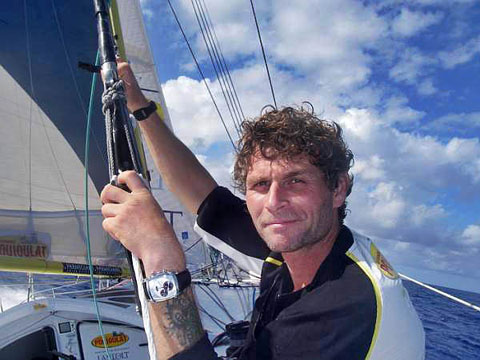 Photo Bernard Stamm

©2007
onEdition
But it has not been easy sailing for Stamm. Though the Swiss sailor likes to give the appearance of all being well on the good ship Cheminées Poujoulat, that's not necessarily been the case. He's had to collect rain water to supplement his ailing watermaker, and the other day he had to climb the mast twice, once to fix a bad connection in his electronics, and then again to repair his staysail halyard.
Of course, that's nothing for the other V5O racers. Second-place Kojiro Shiraishi has been battling light winds for most of the leg from Fremantle. At one point, he thought he'd have to make a pit-stop to top up on fuel and food supplies. Now 2,800 miles behind Stamm, he's had a reversal of fortunes, and is rocketing along the coast of Brazil, with an average 13-knot speed over the last 24 hours. He reports: "Racing in the middle of nature like this does give us lots of opportunities to test ourselves. If we can keep this good run we should be okay with water and food supplies to the finish. But it is all down to the wind. We will ask the wind Gods to look favorably on us."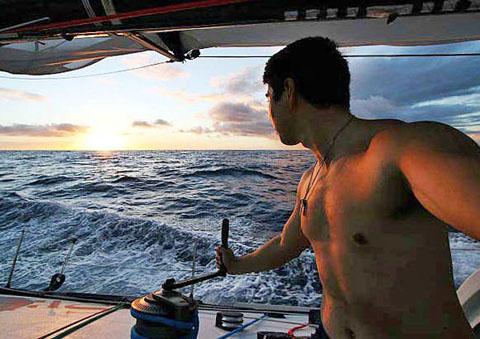 It's been a light leg and mentally excruciating leg for Japanese sailor Kojiro "Popeye" Shiraishi, but leg two appears to have done well for his physique.
Photo Kojiro Shiraishi
©2007 onEdition
Novice circumnavigator Unai Basurko of Spain is in third, 4,312 miles behind Stamm and making the most of Koji's misfortunes, weather-wise, to plan a route that keeps him moving forward. Meanwhile, Graham Dalton, sailing the only Open 50 in this race (everyone else is racing Open 60s), and Sir Robin Knox-Johnston passed within a mile of each other on Wednesday, south of Brazil.
The two seem to have a running competition for who can make the most pit-stops in this race. (Or is it a cruise for them?) The score is tied at two apiece. Kiwi Dalton pulled into his home country to top up on food and fuel after a diesel leak ruined nearly all of his food stores, and then into the Falkland Islands to replace a broken mainsail headcar. Sir Robin returned to Fremantle just after the start to repair his autopilot, and then made his second stop in Ushaia to repair his mainsail headcar after passing Cape Horn. Also topping the to do list was fixing his satellite weather information systems - his wind instruments failed not long after he left Fremantle and he sailed across the Southern Ocean with only local weather reports when available. Sir Robin was also hoping to get a haircut during his layover. No, we're not making this up - and we're not sure Hollywood could either. Apparently he was too busy between the first and second legs of the race in Fremantle to take care of domesticities.
- latitude / ss