PV Race Record Falls with a Bang
February 28 - Puerto Vallarta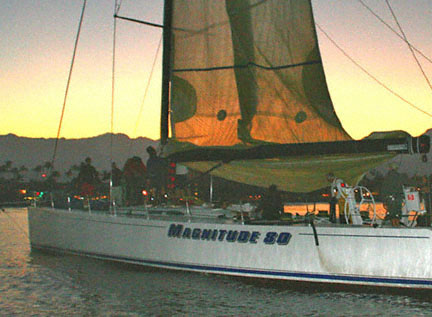 Magnitude 80 just after arriving in Puerto Vallarta at dawn on Tuesday.
©2007 Del Rey Yacht Club
After more than two decades of trying, it's highly appropriate that when the course record for the Marina del Rey to Puerto Vallarta race fell, it came down with one heck of a bang. Doug Baker's maxi-sled Magnitude 80 crossed the finish line in Banderas Bay on Tuesday morning after lopping more than 31 hours off of the previous race record held by the MacGregor 65 Joss since 1985.
Mag 80's time of 3 days, 15 hours, 51 minutes and 39 seconds on the 1,125-nm course made for an average speed of 12.8 knots. The top wind was 24-25 knots, same as the boat speed. "Not super windy," watch captain Sam Heck said, "but steady." Halfway down Baja they veered due south outside the rhumb [direct] line, but otherwise their tactics were simple. "Three tacks, three jibes," said navigator Ernie Richau, along with a minimal number of sail changes. A reaching asymmetrical spinnaker and a running spinnaker were up most of the way, before a switch to a masthead jib the last few miles.

"The conditions were great, no doubt about it," Baker said. "Couldn't have asked for anything better, from start to finish. I've been doing this since '81, and I've never had a better year for conditions."
With its only all-out racing competition, Lorenzo Berho's J/145 Raincloud, far back, the Alan Andrews-designed Mag 80 easily swept the race honors: first to finish, first in class, first overall, and of course, the record.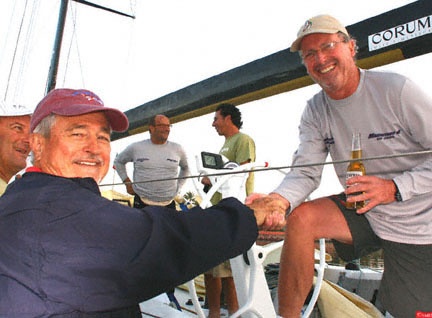 David Janes, whose Scout Spirit started with Mag 80 in Marina del Rey but dismasted and retired from the race just three hours later, greeted Baker and crew in PV. "We want you to know we got here first, anyway," Janes joked. "Congratulations on a great race."
Photos Rich Roberts
©2007 Del Rey Yacht Club
"As far as the record goes, what helped us a lot is that we didn't have to think about any other boats," Baker said. "After Scout Spirit had their problems, we could sail our own race. We didn't have to worry about covering anybody. All we were thinking about was, okay, we gotta get there as fast as we can. That's such a huge thing not burning up time just trying to stay ahead of somebody else. Not to take away from what we did, but that was a factor."
The Salsa fleet, which includes Concord resident David Kory's Barking Spider 3, started its third and last leg Monday and is expected to reach PV today in steady winds. For final results, go to www.pv07.com.
- latitude / ss