Lighthouses
February 23 - San Francisco Bay Area
The announcement earlier this week that the Coast Guard would be turning over a handful of historic lighthouses to the Golden Gate National Recreation Area (part of the National Park Service) was met with mixed reactions. Personally, we consider it a good thing that GGNRA will have control of the lighthouses at Point Bonita, Alcatraz, Point Montara and the smaller structures - which were primarily foghorn stations, although they were lit at night - at Lime Point (under the north tower of the Golden Gate) and Point Diablo (about a 1/2 mile farther west). Not because the GGNRA has any more money for upkeep and maintenance than the Coasties - which was basically zilch - but because they are interested in eventual restoration of these structures and opening the big ones to the public.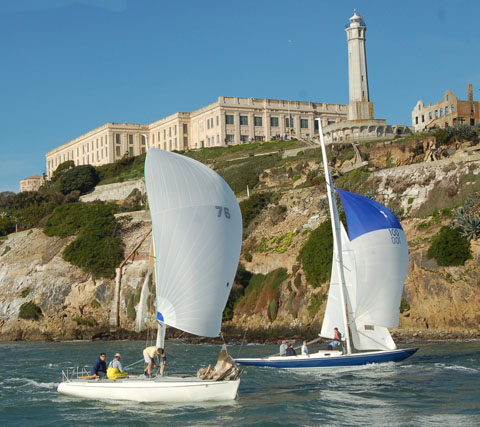 Though changing caretakers, the light at Alcatraz will continue to be a beacon and landmark for local sailors.
Photo Latitude/JR
©2007 Latitude 38 Publishing Co., Inc.
The thing that seemed to invoke the most ire among several people who wrote to us - or actually, who forwarded letters and responses exchanged with the Coast Guard - was a quote in Thursday's Chronicle. "They are obsolete. They are no longer relevant in today's maritime realm," said a Coast Guard spokesman. While that assessment was perhaps a tad harsh, he was correct - high-tech buoys, GPS and shipboard computers have largely taken over navigation these days.
What we want to make sure people understand is that the blinking beacons at these sites are not going away - just control of the lighthouse structures themselves. (GGNRA already oversees Alcatraz and hosts regular walking tours to the Point Bonita light; the state runs a hostel at Point Montara). We hope it doesn't come as a surprise to anyone that all American lighthouses have been automated for about the last half century. Some of these high-tech lights, such as Alcatraz, still glow through the original Fresnel lenses. Others, such as the one on Pt. Reyes, are located some distance away from the old lighthouse.
And speaking of the Pt. Reyes light, the Coasties turned that one over to the Park Service in 1977. The community got behind a restoration effort, it was opened to the public, and it has ever since been one of the most popular tourist attractions in Marin County. One could only wish the same for the current group.