Photos of the Day
February 21 - Mill Valley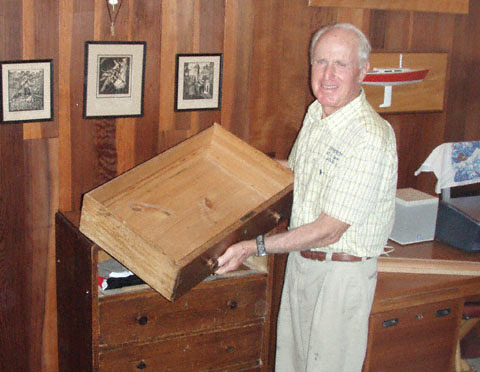 Here's the drawer, and it's too small for a five-year-old.
©2007 Latitude 38 Publishing Co., Inc.
Today's Photo of the Day will hopefully settle a minor disagreement. We recently wrote that Mill Valley's Warwick Tompkins, who is now sailing the oceans of the world for the seventh decade, was given the nickname 'Commodore' when he was an infant living aboard Wanderbird, an 1880s Elbe River pilot schooner that his parents sailed all over the world, including around Cape Horn. The story we'd heard was that after being given a tour of the boat, a visitor pulled out the top drawer of a chest of drawers, only to find the infant Warwick sleeping inside. "I've already met the captain," said the visitor, "so this must be the commodore." Presumably everybody laughed, so the nickname took.
Not so, said one of Commodore's friends, who remembers being told that Tompkins had somehow got the nickname when he was about five, long after he would have outgrown the drawer.
Since Commodore's house is right up the road, we went to the source for a definitive answer - and some humorous photos. It just so happens that Commodore still has the chest of drawers in question - it's the one in the photos. And even after we got his wife Nancy's bras and underwear out of the top drawer, it was clear that only a very small infant could have lived inside. So that, we think, settles that.
Because he enjoys a good laugh, Commodore, who turns 75 this weekend and hopes all his old friends will show up for his birthday party Saturday afternoon at the San Francisco YC, climbed up on the chest to see if he could, all these years later, still fit into the drawer. As you can see from the second photo, he could not.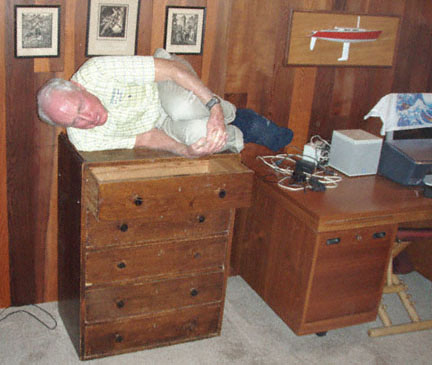 Commodore's limber for 75, nonetheless, being limber won't be enough for him to fit in the drawer.
Photos Above Latitude/Richard
©2007 Latitude 38 Publishing Co., Inc.
Having delivered a catamaran from New Zealand to Japan, Commodore and Nancy didn't get in as much South Pacific cruising this year aboard their Wylie 38+ Flashgirl as they hoped. But he'll be returning to the boat in her hole at Vuda Point, Fiji, in a few months to get her ready to go again, and a short time later Nancy will join him. Then it's off cruising once more.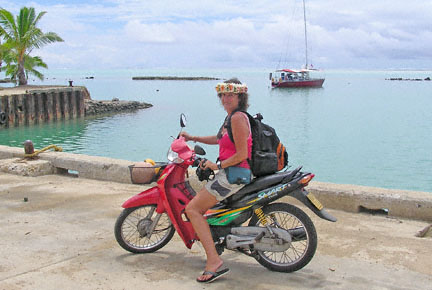 Nancy, as seen cruising around an island in the South Pacific.
Photo Courtesy Flashgirl
©2007 Latitude 38 Publishing Co., Inc.
How did he like the cat he delivered? Apparently we're going to have an article in the next issue titled, Why Nobody Should Ever Own a Catamaran. We can't wait.
- latitude / rs