We Spoke Too Soon
February 19 - Angel Island
On Friday's 'Lectronic, we announced that Ayala Cove's new moorings had finally been installed and were ready to accept visitors. Park Superintendent Dave Matthews made a point to warn boaters that the line and floats that hold the mooring chain off the sea floor make it to the surface at low tide, and that boaters should use extreme caution when motoring through the field.
The next day we received an email from Don and Mary Lou Oliver of the Berkeley-based Ericson 38 Cappuccino letting us know that the mooring field was already closed. After successfully picking their way through the minefield of floats, the Olivers watched helplessly while Endless Summer became fouled. "It took Sea Tow and a diver to free them," Mary Lou reported. "It was bound to happen, and Endless Summer didn't do anything wrong."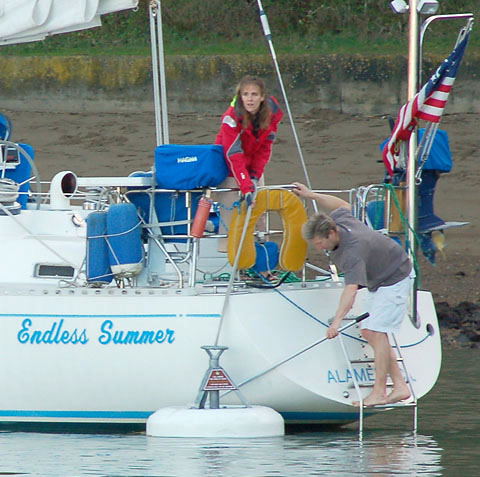 Endless Summer got tangled in Ayala Cove's new mooring field.
Photo Mary Lou Oliver
©2007 Latitude 38 Publishing Co., Inc.
First thing the next morning, all the moored boats were moved to the docks and the mooring field was roped off, which is how it will remain until the Department of Boating and Waterways can hire a contractor to fix the flawed system. Matthews reported on Friday that the Parks Service informed the DBW about the potential for disaster, and that the DBW had a plan in place and would be putting it out to bid today. We certainly hope the DBW fast tracks this project but, considering how long it took for them to install the new field in the first place, we aren't holding our breath.
- latitude / ld