New Moorings at Ayala Cove
February 16 - Angel Island
The new moorings slated to have been installed in Ayala Cove last summer have finally been set, just in time for the the long weekend. Angel Island Superintendent Dave Matthews reports that 27 new helix-style (think 'corkscrew') moorings were recently embedded into the sea bed and are ready for use.
The replacement of the moorings wasn't totally straightforward so boaters should be aware of a few things. First, the orientation of the field is now facing north instead of south, so a boat's bow should be pointed toward the Golden Gate. Remember, always tie bow and stern in Ayala Cove. Secondly, the moorings are run like a campground and checkout is at noon. Boaters on balls are also now allowed to stay on the island until 10 p.m. if they came ashore by dinghy.
Most importantly, boaters should be extremely cautious when entering the mooring field anywhere near low tide. It seems that, to avoid impacting the sea floor, the chain connecting the ball to the anchor is held off the bottom with a short length of nylon line attached to floats. Unfortunately, the line is long enough and the water shallow enough, that the lines float on the surface at low tide. There is a plan in place to fix the problem but, it being a government project, don't expect it to happen in the near future.
The rates for docking or mooring at Angel Island are still the same: $10 day fee for the docks and $15 for a mooring ($20 after May 15). Up to four boats can raft on one mooring, with each additional boat paying $10. Keep in mind that these new moorings are in a 'trial period' so the number of boats allowed to raft could change if problems arise.
A cool feature of www.angelisland.org that we just stumbled across is the 'Angel Island Cam'. The camera, which refreshes every 30 seconds, is located on the second floor of the Visitors Center and overlooks the mooring field, docks and picnic area, perfect for seeing what the traffic is like before you leave your slip. And this weekend is shaping up to be perfect for getting out of the slip!
- latitude / ld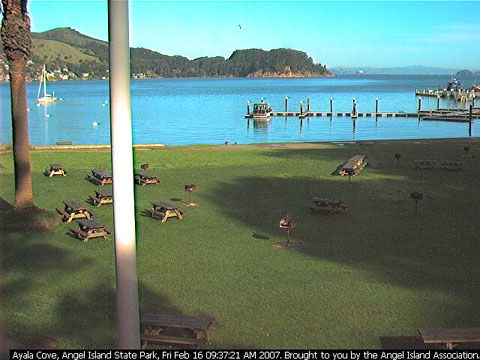 This shot of Ayala Cove was taken at 9:37 this morning and shows plenty of room in the new mooring field.
©2007 www.angelisland.org/angelcam/cove.htm