Photos of the Day
February 2 - St. Barth, French West Indies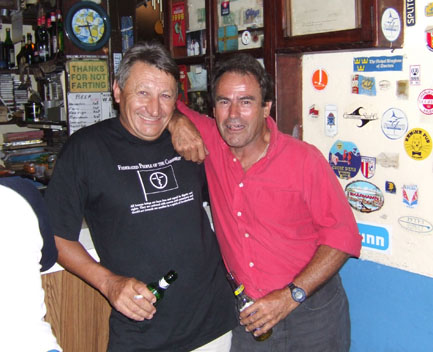 Lucky on the left, Yvan on the right, are old warriors remembering great times. Both complied with the request on the wall of Le Select to not fart.
Photo ©2007 Latitude 38 Publishing Co., Inc.

Today's Photo of the Day, of Lucky Poupon and Yvan Fauconnier in the Le Select Bar, shows why we chose to spend most of our Caribbean time in at St. Barth, as opposed to Guadeloupe, St. Kitts, Nevis, the Grenadines or anywhere else. The island, and the humble Le Select Bar, simply attracts the great yachts and great sailors of the world.
Those of you who have been sailing a long time will recall Yvan as one of the pioneering French sailors of the '70s and '80s, who broke all kinds of sailing barriers and brought unheard of excitement to the sport. For example, his entry for the '76 OSTAR was the 128-ft ITT Oceanic, better known by her previous name of Vendredi 13 (Friday the 13th). Plagued by even more problems than Alain Colas aboard the 236-ft Club Mediterranée, Yvan had to be towed to Newfoundland, with the skipper of another disabled entry, by a Russian tug.
In between doing many other transatlantic races with Michael Birch, Yvan entered the 53-ft Umupro Jardin, the first tri with really large amas, in the '82 Route du Rhum transatlantic race. While he finished eighth, he did much better in the '84 OSTAR, the big race of the era. Sailing the same boat, Yvan took overall honors for the best elapsed time. There was some controversy, however, as Philippe Poupon, Lucky's brother, actually finished first, but Fauconnier was given 16 hours credit for standing by countryman Philippe Jeantot, who had flipped his cat Credit Agricole. Yvan naturally became a hero in sail-crazed France, but since he's more comfortable in a storm on the ocean than in front of the press and with sponsors, he didn't capitalize on his victory as others might have.
Yvan's last competitive event was the France to St. Barth Figaro in '98, with his then 26-year-old daughter Karine. His daughter had spent several years of her childhood aboard Vendredi 13 doing charters in the Caribbean with her dad, and in the process met and sailed with all the great French sailors of the time. She subsequently went on to race the 60-ft ORMA tri Sergio Tacchini singlehanded across the Atlantic several times, and with crew won the most recent Quebec, Canada, to St. Malo, France, race. Dad naturally worried about her when she did those races "because those ORMA trimarans are really crazy." In fact, Yvan had to help organize a rescue of Karine and her boat when Tacchini was badly damaged, along with many other tris, in a solo transatlantic event. Now that Karine has a nine-month-old child, she's limiting her competitive sailing to an all-women's D-35 cat, which will race one design on the lakes of Switzerland. One of her crew will be the wife of Ernesto 'Alinghi' Bertarelli.
After giving up competitive sailing, Yvan and a partner began looking for a strong, reliable and reasonably fast cruising boat to take to the more remote and interesting parts of the globe. Ultimately, they decided to buy an Ocean 71 ketch. In fact, he called us eight years ago, thinking that Latitude might still own the Ocean 71 Big O. Fauconnier and his partner ended up buying Darwin Sound, the Ocean 71 that Al and Irene Whitney had chartered out of Vancouver and around the Pacific for 15 years. Although the ketch is more than 35 years old, Fauconnier says she's been a solid, safe passage-maker. The safe is important because twice he has sailed the Southern Ocean from New Zealand to Cape Horn. In all, he's covered 70,000 miles in seven years. He's about to cross the Atlantic again and is hoping to later explore the coast of Newfoundland.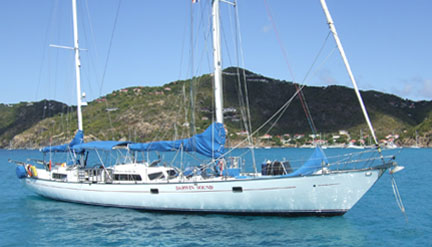 Darwin Sound, after traveling all over the world for the past seven years, enjoys a short break in the warm and blue waters of Gustavia Harbor. If anybody knows the whereabouts of Al and Irene, we hope you'll alert them to this photo.
Photos Latitude/Richard
Photo ©2007 Latitude 38 Publishing Co., Inc.
In another West Coast connection, Fauconnier reports that famous Italian around-the-world singlehanders Giovanni Soldini and Vittorio Malingri, who also spend time flipping ORMA 60 trimarans, bought St. Elmo's Fire, the Ocean 71 that was based in Sausalito and then La Paz for many years. They used her to do charters in the San Blas Islands, but have since taken her across to the Med.
We'll have more on Yvan in the March issue of Latitude 38. Until then, you can visit his boat's Web site at www.croisieres-antilles-fauconnier.com. As for Lucky Poupon, we'll have more on him later, as next year he's going to be doing another France to St. Barth doublehanded race. He's been warming up for that by doing long distance doublehanded races, such as Calais to Istanbul, with Florence Arthaud, another pioneering French sailor.
- latitude / rs