Updated Special Report:
Coast Guard Search Expanding Instead of Ending
February 1 - San Francisco
The U.S. Coast Guard will conduct one more massive search effort for missing singlehander Jim Gray before considering case suspension this evening. The experienced San Francisco sailor has been missing since Sunday.
Based on excellent search conditions, unit availability, and no indications of Dr. Gray's sailboat within previously searched areas, the Coast Guard has decided to search an expanded area today. The expanded search area will be out to 300 miles west of the California Coast and as far south as the Channel Islands. Probability calculations do not place Gray's C&C 40 Tenacious within these expanded areas; however, the areas are being searched based on the possibility that he could have sailed farther than originally planned.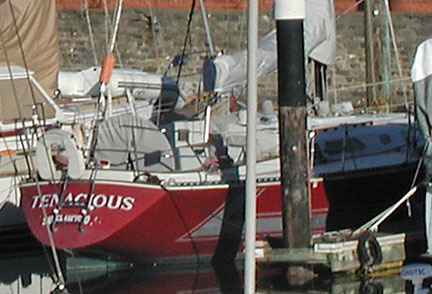 Tenacious, a red-hulled C&C 40, as she looked in her slip at Gas House Cove on the San Francisco Marina.
Photo Sven Thorsten Dietrich
The Coast Guard will use numerous search and rescue units from all along the California Coast in today's extended search effort. Units will include two C-130 fixed wing aircraft from Air Station Sacramento; HH-65 Dolphin helicopters from Air Station Humboldt Bay, Air Station San Francisco, and Air Station Los Angeles Long Beach; three 87-foot Coastal Patrol Boats from Monterey, Bodega Bay, and Crescent City; 47-ft motor life boats from Stations Noyo River, Bodega Bay, Golden Gate, and Monterey.
If no leads develop during todays searches, the Coast Guard plans to suspend the case this evening.
Gray's friends and family had planned to launch a private search effort today had the Coast Guard effort ended this morning. Phil Garrett just wrote to us, "We are extremely thankful to the Coast Guard for the tremendous effort they are making to find Jim, and we do not want to get in their way.
"If your readers have any information about the boat or see anything that might help us determine the fate of Jim and his vessel we would really appreciate it. The Coast Guard has been wonderful but it is a very big ocean and their search has turned up little so far. Please ask your readers to contact the Coast Guard if they have any information that might help in the search. Thanks so much."
For more info, see the USCG 11th District's news page, www.uscgsanfrancisco.com/go/site/823. The Coast Guard Command Center can be reached at (510) 437-3700.
To summarize our Wednesday report, experienced singlehander Jim Gray, 63, headed out to the Farallon Islands alone on Sunday morning to scatter his mother's ashes. He spoke to his family by cell phone before sailing out of range. Tenacious is believed to have a liferaft and EPIRB aboard, and the EPIRB has not been activated.
- latitude / cw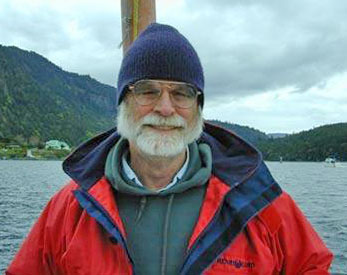 Missing sailor Jim Gray is an acclaimed computer scientist who currently works as a researcher and manager of Microsoft Research's eScience Group.
Photo Courtesy Gray Family