More on Eos and Groovy
January 31 - St. Barth, French West Indies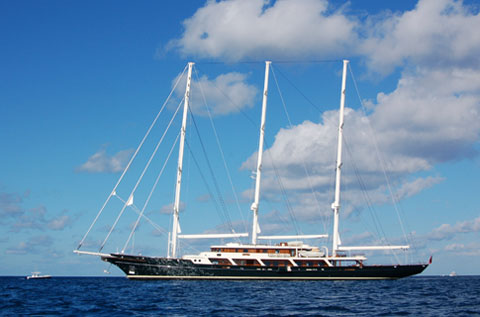 Eos at anchor
On Monday we wrote that the recently-launched sailing yacht Eos, often reported to be 93 meters, and often reported to be owned by a German, is now the largest privately-owned sailing yacht in the world. Well, we made at least one mistake. According to Tom Perkins, owner of Maltese Falcon, the recently-launched Eos is not owned by a German, but rather Barry Diller. Who's he? Diller began his career in the mail room of William Morris Agency in Beverly Hills after dropping out of school, and, after a series of major successes, became the media executive who created the Fox television network. Diller is currently the Chairman of Expedia and the Chairman and Chief Executive Officer of IAC/InterActiveCorp, an interactive commerce conglomerate and the parent of companies including Home Shopping Network, Ticketmaster, Match.com and Citysearch. In 2005, IAC/InterActiveCorp acquired Ask.com, marking a strategic move into the Internet search category. In 2005, Diller received $295 million in compensation, the highest of any executive in the United States. That's who he is.
Unfortunately, we mistakenly zorched Perkins' email after just scanning it, so we can't say for sure, but believe Perkins said that Eos actually isn't the largest sailing yacht in the world. Hopefully we'll get another copy of that email so we can report the correct information.
In that same Monday 'Lectronic, we noted that Jimmy Buffett took delivery of a new sailboat down here in St. Barth but we didn't know what kind she is. Several readers have written in to report that she's a Tofinou 9.50, designed by Michel Joubert, and said to be as fast as she is expensive. Be that as it may, there was a humorous hiccup to the launch, as the boat somehow became stuck to the cradle and couldn't be lifted off. After some prying, she was released. Once that was done, Buffett and friends, including 83-year-old Marius Stackelbough of Le Select, enjoyed a brief christening, then he went out for an afternoon sail. Since Groovy sailed right past where we were anchored, we took the accompanying photograph.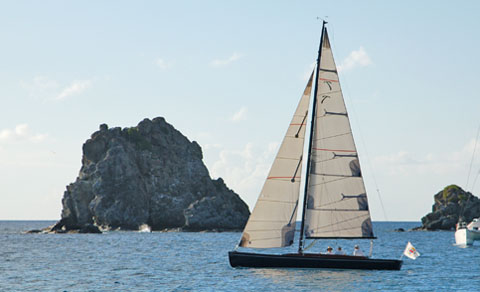 Groovy sails by.
Photos Latitude/Richard
Calling Spindrift: There was a problem with the article and photo that you sent to us. Please contact us. Thank you.
- latitude / rs