Photos of the Day
January 29 - St. Barth, French West Indies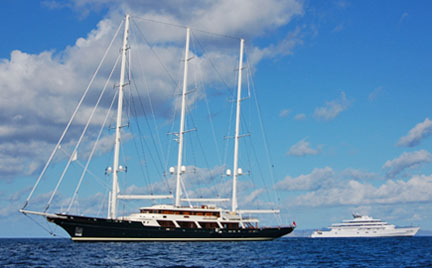 Maltese Falcon and Rising Sun are no longer the big kids on the block.
Today's Photo of the Day was taken at St. Barth yesterday, and is meant to show that nobody can have the biggest of any kind of boat for long - at least not these days. The boat on the right in the distance is Larry Ellison's 451-ft Rising Sun which, not long ago, was the largest privately-owned motoryacht/ship in the world. She's since been surpassed by several other motoryachts. The sailing yacht on the left is the recently launched Eos, a 310-footer that's reportedly owned by a German. Both yachts were built by Lurssen in Germany, a company that knows how to respect the privacy of their clients by not revealing details about their clients or clients' boats. Eos eclipses the previous longest sailboats in the world, those being Tom Perkins' Maltese Falcon which, although only 289 feet, was considerably larger in all other respects than Jim 'Netscape' Clark's 291-ft Athena.
But nobody needs to feel sorry for either of these gentlemen. In the case of Perkins, his belief in the unique and untried Dyna-rig, with 15 sails on yard-arms supported by three unstayed masts, has been justified. Not only does Maltese Falcon sail well, the concept has been so well received that Perini Navi, the builder, has plans to build a somewhat smaller version of Falcon with two masts using the same rig. As for Clark, he's having Royal Huisman build him a new version of the 135-ft J Class yacht Endeavour. For what it's worth, the mega-yacht market continues to explode, with some of the better yards sold out for the next three or four years. So don't wait too long to get your order in.
But not everyone is going for big. As we putted around the harbor in our inflatable, we noticed that even Jimmy B, the sailor's favorite singer, has a new sailboat. He was crawling around the deck of what looked to be about a 27-ft dark blue hulled sloop, with a drop keel, that was sitting on a trailer with her rig up in the commercial harbor. Groovy looks a lot like an Alerion 27, but was apparently built in France. Who knows, perhaps he'll join the local sail-every-afternoon-at-4 p.m. group? That's more our speed.
- latitude / rs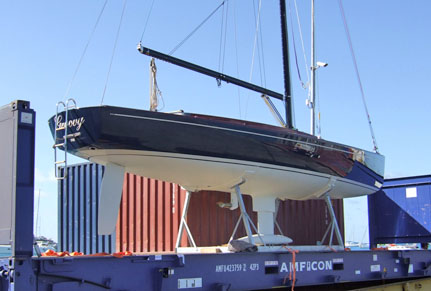 Jimmy B went the other way with his lovely French-built sloop Groovy.
Photos Latitude/Richard