Dinghy with Knowledge and Care
January 24 - St. Barth, F.W.I.
In recent issues of Latitude 38, as well as several 'Lectronics, we've warned about the dangers of taking dinghies in and out of the surf, and the dangers of being hit by another boat while riding in a dinghy at night. We've got more evidence to support those warnings.
Yesterday afternoon, we sailed over to Grand Saline, one of St. Barth's nicest beaches, for an afternoon of boogie-boarding. As we were having fun with the waves, we looked down the beach and saw two middle-aged men and a woman trying to launch a 10-ft inflatable with a 4-hp outboard through small surf. The two men were standing in knee-deep water, while the woman was sitting in the dinghy. It was between sets, so the dinghy wasn't getting slammed around very much. But they were stuck where they were because the two men, obviously inexperienced, couldn't figure out how to lower the outboard. You know, where you have to pull the lever and lift the engine head before it will drop down.
After about three minutes, a larger than normal wave came through, catching all three unaware. Even though it was still a small wave, it nonetheless had the power to get under the bow of the inflatable and flip it all the way backwards so that it landed on top of the woman. She got the daylights scared out of her, but was miraculously unhurt. As the men tried to right the inflatable, they were to the shore side of it, and thus got smashed by the inflatable when it was hit by subsequent waves.
Not wanting anyone to get hurt, and needing to atone for countless bad deeds, we hurried down the beach, helped the shaken trio flip the inflatable, showed them how to lower the outboard, and helped them get the rig out through the surf line. They didn't speak English, but it was clear they were grateful for the assistance.
While in the Le Select Bar that evening, we heard about a far more tragic dinghy accident that happened here almost exactly a year ago. A French couple had just completed a circumnavigation on a boat of about 37 feet, and were coming ashore in their small inflatable to meet some friends to celebrate. But it was dark, and their dinghy wasn't seen by the French captain of a megayacht, who was coming ashore at high speed in the yacht's tender. He ran over the little dinghy with the circumnavigators, killing the man and badly injuring the woman. His trial is to begin shortly.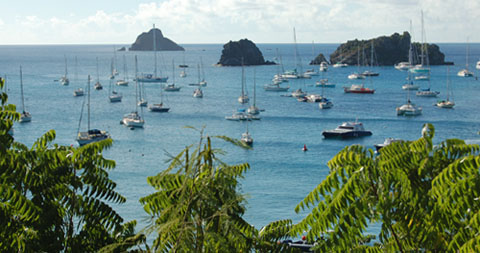 The outer harbor at Gustavia is beautiful and looks peaceful, not at all like a place where innocent cruisers and fishermen have lost their lives.
Photo Latitude/Richard
Locals told us of at least two other instances in the last 10 years in which people, including a local fishermen, were killed in their dinghies as a result of being hit by larger tenders being operated at high speed.
There is a three-knot speed limit in the inner and outer harbors of Gustavia, but it's frequently violated. Our strategy to keep from being killed is to always carry a light and wave it around like crazy to distinguish our dinghy from the ambient lights. We also stick to the sides of the channels and keep our eyes peeled for other fast-moving vessels which often show no lights.
In Mexico as in the Caribbean, dinghying defensively is critical. So no matter if coming in or going out through the surf, or dinghying at night, please know what you are doing and be very, very careful.
- latitude / rs