Photos of the Day: Corinthian Midwinters
January 22 - Tiburon


Blackaller buoy draws a crowd
Photo Peter Lyons/www.lyonsimaging.com
Bright sun and very welcome springlike temperatures greeted an all-time high 154 boats that came out for the first installment of Corinthian YC's popular midwinter series this past weekend. All that was needed to make it a perfect world was good breeze - too bad there's no such thing as a perfect world. The wind gods did smile enough to provide a lazy westerly to about 8 knots on Saturday, and a piping northerly on Sunday that got up to maybe 10 or 12, with a few puffs strong enough to cause an occasional roundup. Considering that the cold snap of the past couple of weeks has left the Bay a windless desert, the weekend was a real gift.
On Saturday, the hour-long starting sequence for 18 divisions stretched to more than an hour and a half due to postponements. Even when the guns were going off, some boats just kind of sat there bumping against each other unable to get across the line. Everyone finally got going, sailing for the most part the shorter courses in the RC playbook.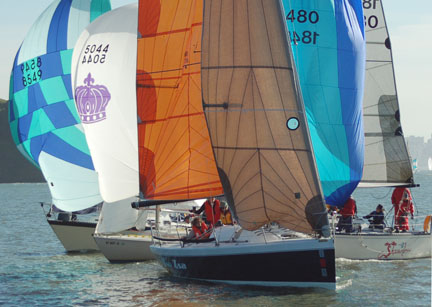 This mark rounding, led by Zsa Zsa, looked more like Christo's conceptual art piece.
Per tradition, Saturday night festivities at the club included a great dinner and dancing to Girls' Night Out. Kegs this year were courtesy of ABC Yachts and Peg Kopple Realtors.
Sunday racing started on time at noon in decent breeze, which lightened up for awhile but returned later on. Strong currents on both days were either bane or boon, depending on what course you were on. One lucky division was Non-Spinnaker 1, which was sent on a Bay tour course on Sunday. As it turns out, the current was a big help over much of this course, with boats carried in the right direction even when their sails were hanging limp. When was that last time that happened?!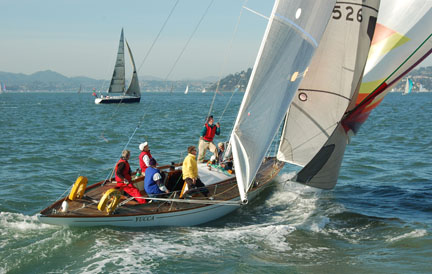 Hank Easom's lovely Yucca won both her weekend races - again.
Look for a feature on this regatta in the February issue of Latitude 38. The second and final CYC Midwinter Weekend is on February 17-18. Cumulative scores for both weekends determine overall winners. Here are the division leaders after two races.
PHRF1 - Howl, Sydney 38, Peter Krueger
1D-35 - Yeofy, Eliel Redstone
PHRF 2 - Jeannette, Frers 40, Henry King
IOR Warhorse - True North, Baltic 42DP, Jeff Dunnavant
Express 37 - Expeditious, Bartz Schneider
PHRF 2 - Mistral, Beneteau 36.7, Ed Durbin
J/105 - Aquavit, Russell/Wilson
Non-Spin 1 - Q, Schumacher 40, Glenn Isaacson
PHRF 4 - Yucca, 8-Meter, Hank Easom
PHRF 5 - Silkye, WylieCat 30, Steve Seal/John Skinner
SF Bay 30 - Shameless, Schumacher 30, George Ellison
Express 27 - Desperado, Mike Bruzzone
Non-Spin 2 - Windhover, Pearson 10-Meter, John Dodge
PHRF 6 - E-9, Moore 24, Lesa Gutenkunst
Alerion Express 28 - Eagle, Chuck Eaton
Non-Spin 3 - Youngster, IOD, Ron Young
PHRF 7 - Tchoupitoulas, Santana 22, Giovacchini/Buckingham
Non-Spin 4 - Tension II, Cal 20, John Nooteboom
Complete results: www.cyc.org.
- latitude / jr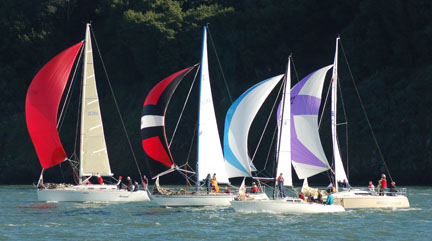 Four boats from three different divisions charge for home.
Photos Latitude/JR except as noted