Racing News from Down Under
January 5 - The Southern Hemisphere
Fortunately, our 'racing department's trip to the Southern Hemisphere for the holidays coincided with several sailing events Down Under. Unfortunately, we're a few time zones too far east, in New Zealand. But it's been great to watch sailing on the evening news, right alongside the other Antipodean favorites, namely cricket and rugby.
Catching up with the 'local' events, Kiwi Graham Dalton and Unai Barsurko of Spain crossed the Velux 5 Oceans first leg finish line in Fremantle on January 1 and 2, respectively. Separated by 16 hours, their finishes were among the most
competitive action in the race to date. Both arrived in Fremantle nearly a month after leg leader Bernard Stamm and second-place Kojiro Shiraishi (Sir Robin Knox-Johnston finished third on December 29). Not to take anything away from the achievement of these two who singlehandedly sailed through some of the roughest conditions on the planet (you don't see us out there), but we can't remember a more anti-climatic finish to any ocean race.
If there is a saving grace in this for the so-called "B fleet" competitors - both are apparently pleased with the results. Sailing the only Open 50 in the now five-boat race, the 54-year old Dalton says he entered for the personal challenge and is committed to finishing regardless of where he places. Although his boat suffered considerable damage to the mainsail and the rudders, Dalton believes he will be ready for the second leg, which starts January 14. We understand that his boatbuilder, Davie Norris, of Christchurch, NZ, was in Oz awaiting his arrival. Meanwhile, Basurko, 33, is competing in his first solo circumnavigation in his new Open 60 and continues to learn about his boat and the harsh realities of ocean racing. Despite numerous problems to Pakea and unfavorable weather patterns, Basurko sees his fifth place finish as an important achievement.
On the other side of Australia, the books have also closed on the 2006 Rolex Sydney-Hobart race. David Kent's 32-ft boat, Gillawa, set a new race record for taking the wooden spoon (the last boat in) for the third straight year. This year her crew finished in time to catch the New Year's fireworks display in Hobart. The majority of the top race's top silverware was picked up by Bob Oatley's Wild Oats XI and Simon Kurts' Love & War.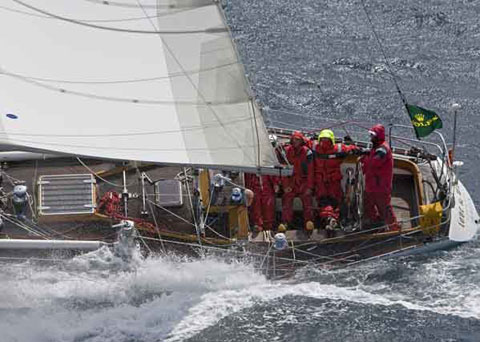 Corrected time winner Love & War sailing off the Australian coast.
Photo Daniel Forster / Rolex
In a race that saw two dismastings, one sinking, six other retirements, and several emergency crew evacuations, the pundits have had a field day criticizing the race's existence. So it's worth noting a comment by Geoff Lavis, commodore of the race organizer, Cruising Yacht Club of Australia: "This race was one of the better races that we've had. This race was very, very good for sailing and yacht racing in general. It was a fairly hard race, it had retirements, it had a boat sinking, it had injuries, so there was drama. Overall it was a very, very tactical race for the boats competing and it was a great result for the Corinthian style of boat to take first, second and third overall under IRC handicap. As Commodore of the CYCA, I am very proud to be the representative of the club at this point in time."
- latitude / ss