Photos of the Day: Botox Barbie Lights Up Caribbean's Red Light District
January 3 - St. Barth, French West Indies

We've seen two things on the little Caribbean island in the last week that we never expected to see. The first was a couple of nights ago, when actress Catherine Zeta-Jones - who looks smashing - got up on the small stage at the La Plage Restaurant and sang 'No Woman, No Pride' with Jimmy Buffett. The second was on New Year's Eve afternoon, when Warren Stryker of St. Thomas - and before that, Sausalito - sailed into town, along with his 13-year-old son John-Phillip and buddy Kevan, and using his 25-year-old Hunter 54 Botox Barbie, bested some of the best yachts in the world to take corrected-time honors in the 31-boat St. Barth New Year's Eve Around-The-Island Race.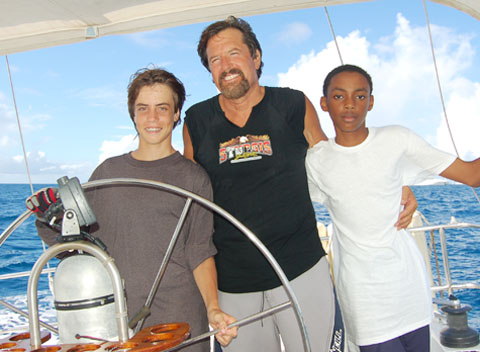 John-Phillip, Warren, and Kevan - who would have figured they'd do so well with a 25-year-old boat never known for racing prowess and dacron sails.
In order to achieve his victory, Stryker and his crew - which included Bill Lilly of Newport Beach-based Lagoon 47 Moonshine, Patty Cochran of Corona del Mar, and the Wanderer - had to beat a lot of boats whose masts are so tall they are required to show red lights to prevent airplanes from flying into them. Included among them were the 135-ft J Class Endeavour, the 136-ft J Class Ranger, the Dubois 162-ft Tiara (without a helicopter on her aft deck), the Alloy 160 Georgia, the Swan 112 Highland Breeze, as well as a lot of terrific small boats, such as the Swan 82 Opus V, the new 72-ft sloop Fearless, the 72-ft sloop Gitana, and the Dubois 72 Bellaxtrix (which was entered as "tender to Le Grand Bleu", because she's carried as deck cargo aboard Russian oil oligarch Roman Abramovich's 300-ft motoryacht).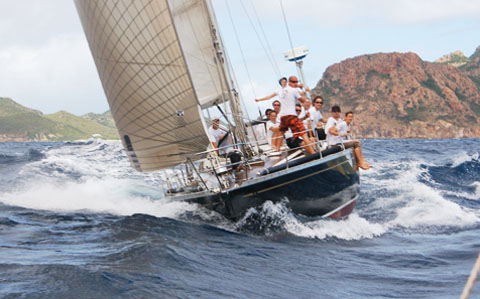 The Swan 42 Carbon battles the slop off Coconut Island.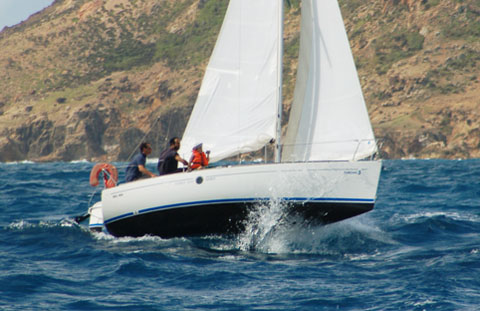 Little Noah Noah goes for air in the shallow waters near Le Toiny rock.
It was a fair race, with blustery tradewinds between 15 and 22 knots, sunshine and small squalls, and a course that featured a lot of beating into five-foot tradewind seas and slop, as well as a long downwind leg, followed by a flatwater beat.

Botox Barbie - named after the then 11-year-old John-Phillip saw a blonde cougar in a convertible at Hull Bay on St. Thomas - excelled to weather in the typical tradewind conditions that saw the really little boats, such as the Beneteau 21 Noah Noah, bouncing around like just another discarded champagne cork in Gustavia Harbor on New Year's Day morning. It was actually a terrific example of how a guy like Stryker, who really knows his boat and who really knows how to sail, can get the maximum potential out of a boat. Friends think he learned to sail upwind in the Caribbean trades after all but singlehanding his 41-ft full keel Bounty II Fifties Girl from Panama to St. Thomas in the '80s. "He might have lost his mind in that two-week, 1,800-mile slog across hell," says a friend, "but he seemed to have picked up a knack for efficient upwind and upcurrent sailing. It was either that or die."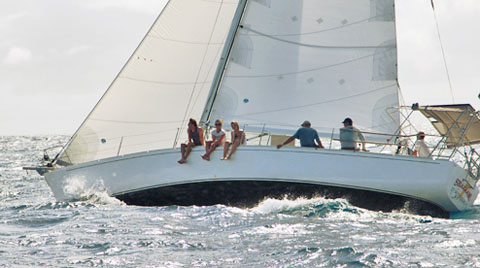 After the leeward mark of Ile Forschue, it was a flat water upwind drag race between the J/42 Shazam! and Botox Barbie. Smelling fear from the Shazam skipper, Stryker waterlined the shorter boat.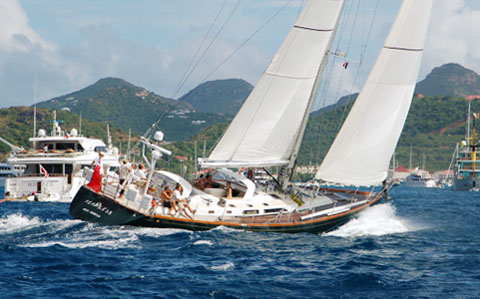 The gorgeous 72-ft Fearless, which took honors in her class, was typical of many of the fine boats in the race/parade.
Indeed, it wasn't the first time Stryker has done well sailing upwind around St. Barth. Back in '91, he won 27 gallons of rosé after he and Fifties Girl beat the 56-ft Jubilee, winner of the Route du Rose transatlantic race, boat for boat from St. Thomas to St. Barth.

Despite Botox Barbie Stryker correcting out on the fleet, the name on modest Around-The-Island perpetual trophy will be Mischievious, as in Trey Fitzgibbon's Meritan 65, which turned in the best corrected-time of any monohull. Region Guadeloupe, an ORMA 60 trimaran which, if we're not mistaken, turned in a 24-hour run of 625 miles at the hands of Laurant Bourgnon during a previous incarnation, bested the old elapsed-time course record held by Hasso Plattner's 147-ft Visione. But by just one minute.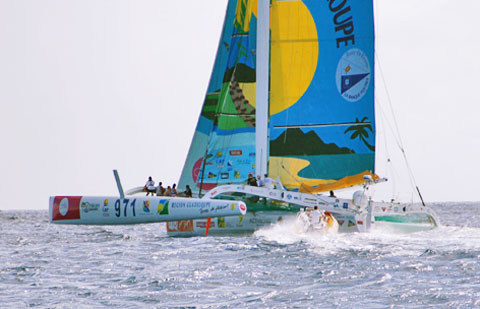 Region Guadeloupe, which you and nine friends can charter with skipper Claude Thelier for just $7,200/day, set a new course record of one hour, 31 minutes on the 22-mile course.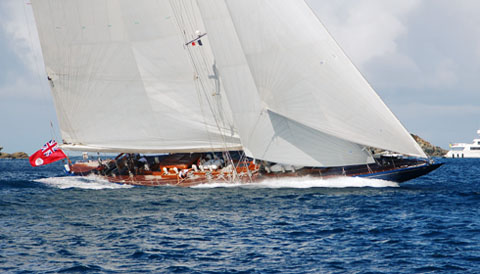 Although not an official starter because of insurance issues, the J Class Endeavour, the best looking of all J Class boats, looked like a billion dollars. Jim Clark, noted for owning the 156-ft Hyperion and the 295-ft Athena, is building a sistership at Royal Huisman.
A few hours after the end of the race, the captains and crews gathered on the Charles de Gaulle Quai once again to welcome the new year with plenty of champagne, fireworks and bon années. It didn't turn out to be quite as wild and crazy a New Year's fete as it seemed it was going to a few days before, but nobody was complaining. Our highlights were hanging around La Gamelle with owners Philou and Mimi, who are dear friends with just about everyone, no matter how small their billfold, and later strolling into Bête à Z'Ailes at about 2 a.m. to find Jimmy Buffett playing once again for an enthusiastic crowd of about 50. The singer of choice of most sailors in the world seemed to be both surprised and delighted to have made it to age 60.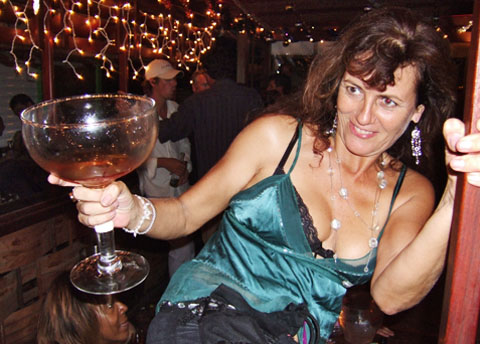 Visiting from her home in Bali, this lovely woman didn't mind having a bit more of Ju-Ju's champagne.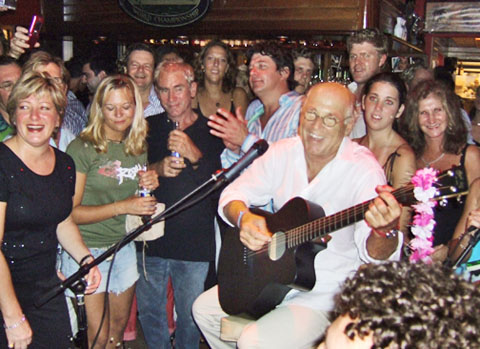 Being 60 and playing into the wee hours for fun seemed to suit Jimmy B just fine.
You gotta love St. Barth. The following morning L'Essentie, one of the local 'newspapers', featured a bunch of photographs of celebrities who'd been on the island, as well as a two photographs of cars that had driven off the narrow roads at almost the same spot on New Year's Eve. The editorial comment on the wrecked cars? "A certain kind of symmetrical beauty, no?"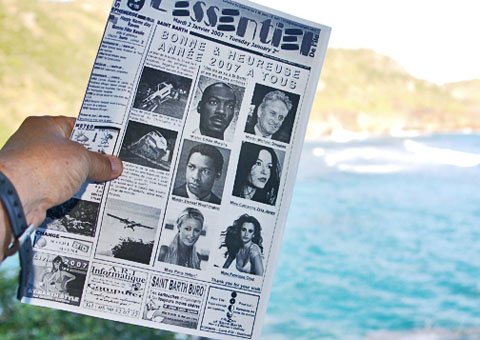 Read all about it, two cars drive off the road and there's a certain symmetrical beauty to it.

We're staying here in the islands a little longer to learn about the French approach to beauty, food and sex, and hoping that your new year will be as good.
All Photos Latitude/Richard