Bob Smith's "Self-Inflicted" Broken Leg
December 29 - La Paz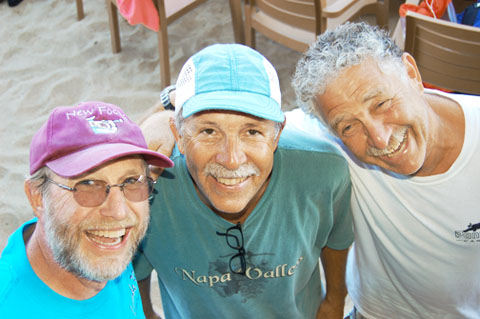 Pantera's Bob Smith, far right, at the Ha-Ha Beach Party in Cabo in November, along with Paul Biery, far left, and Paul's crew, center.
Vancouver's Bob Smith is an excellent boatbuilder, having built his own hi-tech cruising cat, the 44-ft cat Pantera, but he's also an excellent sailor, having singlehanded from Puerto Vallarta to Vancouver twice without using an engine. But as his following report proves, even the best and most experienced sailors can have accidents.
"Here's the real story on the self-inflicted broken leg that I acquired on December 3 while anchoring Pantera off Marina de La Paz: The circumstances were these. A flood tide current of about 4 knots combined with a boat speed through the water of another 3-4 knots, resulted in a boat speed over the ground of 7-8 knots. The boat speed, caused by a 15-18 knot tail wind, was reduced to 4-5 knots over the ground by running my 9.9 hp high-thrust Yamaha outboard in reverse at about one-third throttle. With the knowledge that there would be little time between the anchor, a Fortress FX85, hitting the bottom and the forward speed being arrested, the anchor rode was cleated off prior to launching the anchor. As Pantera behaves much better anchored from the stern than the bow, this maneuver is performed from the stern and, until now, has been accomplished safely for over 10 years. After launching the anchor, with concern for the potential for collision with other boats downwind and downtide, I returned to the side deck to ensure that the 5/8" nylon rode was properly cleated. Unfortunately, I stood in a bight of the rode, which if I was aware of it at all, I assumed was on the the tail of the rode rather than on the loaded side that was about to snap tight. S-T-U-P-I-D !

To make matters worse, the loop of rope was on the inboard side of tiller, the mooring cleat on the outboard side of the tiller. Yes, you are correct - the rather abrupt load on the anchor rode attempted to pull my foot THROUGH the tiller in order to apply the load to the cleat. Ouch! Five knots to zero in a heartbeat. A leg does not a good sampson post make!

So there I was, bound to the tiller of a boat still trying to go 5 knots, screaming for help, with nobody visible on any of the many boats anchored off the marina. Without a knife, in excruciating pain, how was I going to get out of this?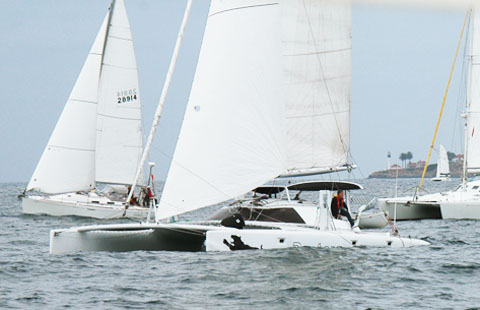 Pantera was the first boat off the line at the start of October's Ha-Ha 13.
Photos Baja Ha-Ha Archives
I consider myself a spiritual person, although not religious. But what were the chances of the composite universal joint connecting the tiller to the tiller connecting bar (catamaran) breaking, just when I thought my foot would be pullled off the end of my leg? In any event, that is what ocurred, the connection broke, the tiller rotated upward allowing my leg to align itself with the load - I was horizontal on the deck - the rode somehow unwrapped itself from my leg, and I was free!

After lying where I was for a couple of minutes, probably suffering from shock, I attempted to return to the cockpit to shut down the engine. On attempting to stand, it was immediately obvious that my leg was broken, as my foot dangled off the end of my leg like a limp rubber boot only partially in place. I crawled back into the cockpit, called for help on the VHF.

"Awesome", a word entirely over used, best describes the response. After identifying who I was, where I was, and the nature of my distress - broken leg and bleeding - there was a flurry of replies. Too many to recall after the fact, but I remember, I think, a male nurse from a boat anchored nearby followed by a female doctor anchored astern of the nurse, marina residents arranging an ambulance, and many offers to provide assistance getting me ashore.

Within about 10-15 minutes, there were 6-8 people on board Pantera, and Carlos from Marina de La Paz and another gentleman arrived in a panga to transport me ashore. Prior to their arrival, I had been injected with 50 mg of morphine and a temporary splint of corrugated cardboard had been taped in place to hold my foot in something like its proper alignment. My tibia - the big bone - was sticking out through the inside of my calf.

Later, x-rays and surgery determined that the tibia was broken into 8-10 fragments. A nasty injury, but one that could have had a far, far worse, outcome except for three things, in chronological order: extremely good luck; extremely good care and attention from the first responders; and extremely good care from the staff at Central de Especialidades Medic de La Paz, and especially Dr. Gonzalez, the orthopedic surgeon. Also, Dr. Delgado and the entire staff, all of whom were extremely friendly, caring and helpful. I must not forget the kitchen staff that prepared excellent meals, Mexican of course. Without exception they were sympathetic to this gringo, injured and far from home.

I would also like to thank the staff at Marina de La Paz for ensuring Pantera was delivered to her slip in the marina and Niel in particular both for his assistance and taking the time to visit in the hospital. Thanks also to all those that took time to visit, brought treats and and/or offers of everything I might require, including DVDs and a DVD player. Even on this third trip to Mexico, I am constantly amazed at the support willingly provided by cruisers, be it within our community or in support of local charity. Tom and Gina were particularly helpful throughout and Rick, from Karma, went out of his way to drive me to the airport a few days after my release from Hospital.

I wish I could remember the names of all those that helped. Many I have been fortunate enough to thank personally, but many more escaped from La Paz before I could thank them in person. I can only hope they will reintroduce themselves down the road.

Speaking of which, I write this from Victoria, where I've had a great Christmas with family. I expect to be here until around the third week of January. Then it's off to La Paz, likely a little more physical therapy and on down the path. I look forward to seeing as many of you as possible, as soon as possible."