Photo of the Day
December 18 - Lincoln City, OR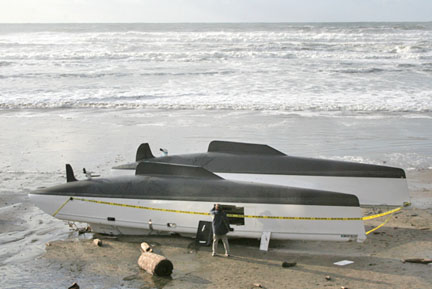 This Voyage 440 was found capsized in Lincoln City, Oregon, on Friday.
Photo Lori Tobias / The Oregonian
Today's photo of the day is of a South African-built Voyage 440 that was found capsized on a beach in Lincoln City, Oregon, on Friday. We closely followed the story all weekend - which has received surprisingly little attention from the media - and little more is known today than was on Friday.
What we do know is that the new owner hired a British yacht delivery company to deliver the boat from South Africa to Washington for the Seattle Boat Show in January. They stopped in San Francisco and left again on December 8. That was the last anyone heard from the crew - which included one Brit and two Americans - until the boat was spotted in Lincoln City just a day after a massive storm spanked the entire Pacific Northwest.
Inspection of the interior found few clues. The last log entry at 3 a.m. on December 11 had the boat 10 miles off Cape Blanco, and noted the crew had struck all sails and deployed two anchors. Unfortunately, the EPIRB was locked in a box. The only other clue found was a piece of line tied to the starboard saildrive (visible in the close-up below), which implies that at least one of the crew was alive after the boat capsized.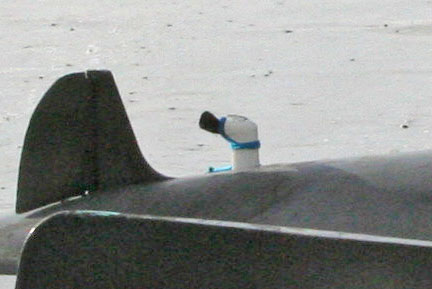 A search was launched immediately but was suspended Sunday when no sign of the men was found. In a bizarre twist, a body that washed ashore in Florence - 70 miles south of Lincoln City - on Saturday was determined not to have been one of the crew, as first suspected, because it appeared to have been in the water much longer than a week.
Not much else is known at this point, other than the fact that the area near Cape Blanco was pummeled by 80 knot winds last week and that it's unlikely we will ever know exactly what happened or why the boat didn't seek shelter in the face of severe weather forecasts. We will have a full report on this tragic incident in the January issue of Latitude 38 which will hit the stands December 29.
- latitude / ld