Expensive Visitors Fees Instituted at the World's Most Remote Islands
December 13 - Chagos Archipelago
If you've been reading Latitude 38 a long, long time, you might remember the names Paul and Susan Mitchell of the big schooner White Cloud. Way back in '82 they took off on the start of a circumnavigation they are just a few miles from completing. They had a big change in '89 in the South Pacific when, if we recall correctly, the wood schooner was in worse shape than they realized, and began to sink. If memory serves, they had to abandon the old girl mid-ocean. So while in Australia, they bought the aluminum sloop Elenoa and continued on their way. They just wrote to say they've made it around to Mexico, but there is "no sense in hurrying back to San Diego." We wonder if they'll even recognize the place.
The Mitchells wrote to advise that Ed Steele, a friend of theirs aboard Doodlebug at Salomon Island in the Chagos Archipelago in the Indian Ocean, reports that the BIOT (British Indian Ocean Territories) has instituted stiff new fees. Effective January 1, the fees to visit the Chagos will have increased from $100 U.S. for three months to 500 English pounds - about $1,000 U.S. - for just one month. That's a small increase of just 2,700%. Further, the money will have to be paid in advance by wire transfer and a permit to visit the archipelago will have to be obtained in advance.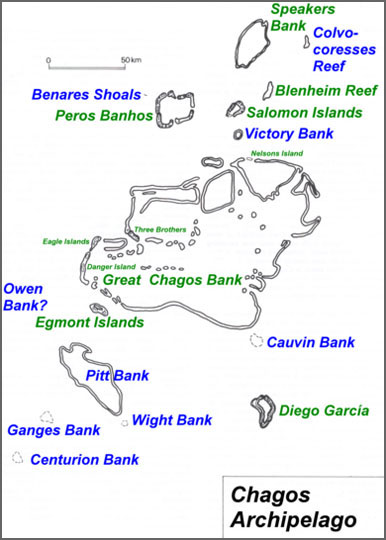 Between '67 and '71, the Ilois - or locals, most all of whom were of African and Southeast Asian decent - were expelled from the islands - the most remote in the world - so the U.S. and the Brits could build the huge and strategically important military base at Diego Garcia, the biggest of the atolls. In recent years, the English High Court has ruled that the expulsions were illegal, and legal battles continue over the status of the islands - which are also claimed by the Seychelles and Mauritius.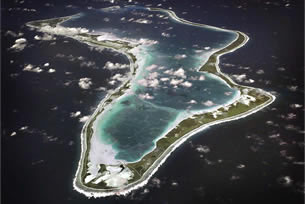 Diego Garcia
Photo & Map Courtesy U.S. Military
The Chagos were like the Garden of Eden for cruisers who arrived shortly after the locals were kicked out, as everything had been left behind, from complete houses with tables set for dining, to a fire department, to crops in the fields. For those who visited in the early days, it was truly bizarre.
Map and Photo courtesy U.S. Military
- latitude / rs