ARC Boats Flood into St. Lucia
December 11 - Rodney Bay, St. Lucia
More than 40 boats have finished the Atlantic Rally for Cruisers and 30 more are expected to arrive in Rodney Bay, St. Lucia, in the next 24 hours. The first across the line last Thursday was the Italian maxi Capricorno, completing the rally in 11 days, 5 hours and 32.5 minutes, shaving seven hours off the course record. They were closely followed by their fellow countrymen aboard Fantasticaaa a scant two hours later.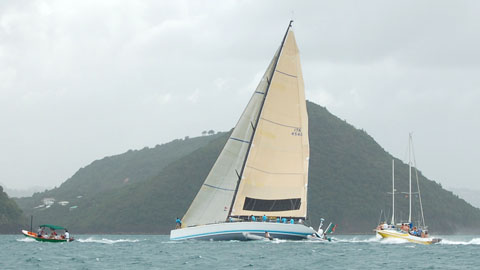 Lance Batten and Susie Bowman of the Berkeley-based Beneteau 40 Eaux Vives were again on the finish line doing race committee work. In fact, they took this photo of the record-breaker crossing the finish line.

Meanwhile, the casualties continue to mount on this running of the ARC. The crew of the Bavaria 35 Arnolf were evacuated yesterday, 48 hours after a collision with a submerged object - a whale is suspected - ripped off their rudder. The crew attempted to steer the boat with emergency rudders and drogues but became exhausted in the rolling seas and made the difficult decision to abandon ship. Another Bavaria, Be-Bop-A-Lula, this one a 47-footer, came to their aid and plucked them off Arnolf.
And it's not just ARC boats that are having problems. The Belgian-flagged boat Allegria, which was not a part of the ARC, called a Mayday on Saturday night when one of the doublehanded crew had a mental breakdown and jumped overboard. Three ARC boats - Tracker My Way, Macnoon and Sunrise - began a search, with Sunrise transferring two of their crew to help navigate Allegria. Four hours later, the 30-year-old crewman was recovered. His condition wasn't getting any better, so a British warship evacuated him.
We'll have a full update of the ARC in the January issue of Latitude 38, which will be on stands on December 29.
- latitude / ld