Phoenix-Based Starlet Abandoned, then Lost
December 8 - Western Caribbean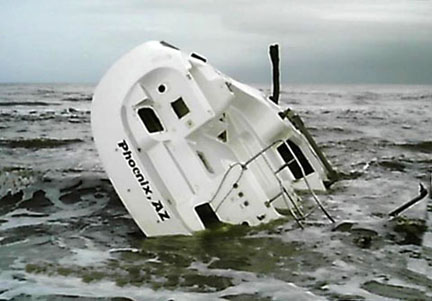 We're sorry to have to report that Rick and Marlene Bartlett, and two inexperienced pick-up crew, had to abandon the Bartletts' Catalina 470 Starlet in the Western Caribbean on November 20 during an attempted passage from Isla Providencia to Guanaja. The four had gotten to within 70 miles of Guanaja when the weather became so severe that Rick decided they'd be better off trying to make the much longer distance back to Providencia.
But once on their way back to Providencia, the weather got even worse, they found themselves close to being trapped in shoal and uncharted waters, many of the boat's systems - including running and compass lights - were down, and only Rick was capable of driving the boat.
Given the circumstances, Rick made the decision that it was more important to save the lives of the crew than attempt to save the boat - and called for help. The crew were somewhat surprised when not too many hours later the ship Stolt Taurus was willing to brave the shallow waters and come to their rescue.
Before she was left, Starlet was anchored in 90 feet of water. It's unclear what happened after that, but 10 days later she was found 40 miles to the south in the shallows off Puerto Lempira, Honduras, half sunk and stripped of everything of value.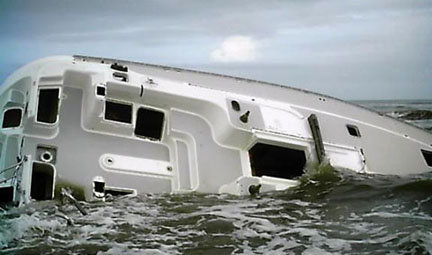 A note on the weather. When Stolt Taurus arrived at Puerto Limon, Costa Rica, the conditions were still so bad that the ship couldn't be docked, nor could anybody leave the ship for several days.
Rick says that "without a doubt mistakes were made" - although it seems to us he's being too harsh on himself. Nonetheless, he'll be sharing the complete story with Latitude 38 readers in the January issue, which will come out on December 29. Despite having lost the boat, Rick says that he and Marlene will continue sailing, probably on a catamaran, not that there was anything structurally wrong with their beloved 470.
- latitude / rs