They'd Rather Be Sailing than Baking
December 6 - Punta Mita, Mexico
One of the most enjoyable aspects of covering the world of sailing is the variety of people we get to meet. For example, earlier this year we got to meet venture capitalist Tom Perkins during the debut of his 289-ft Maltese Falcon in Italy. At the other end of the spectrum, yesterday we got to spend time with Rafael Hemphill and Nicole Bachmann, who cruise Banderas Bay and other parts of Mexico aboard the humble San Juan 24 Wenonah they rescued from a tree - but don't even own.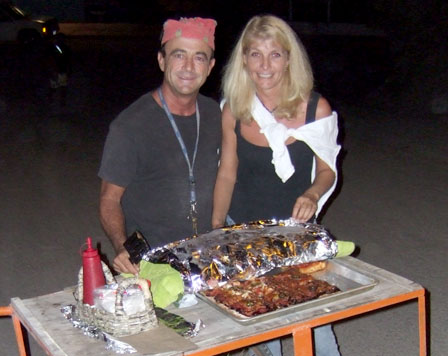 Rafael and Nicole
For some reason, a lot of folks are under the impression that Hemphill, who has lived in Punta Mita since '01, is French or German. Although he spent time in L.A. and, for a period, was an interpreter for the state of Oregon, he's actually a Chilango, which means he's from Mexico City. Bachmann, on the other hand, came to Punta Mita on vacation from Switzerland in '03. Hating the cold of Bern and loving the heat of Mexico, she hooked up with Hemphill and decided to stay.
We met the couple while they were pushing a cart down Avenue de las Pangas in Punta Mita one night at 9 p.m., ringing a bell to attract customers to the pizzas and breads they sell. The couple have been bakers for three years but aren't particularly happy about it. "We'd much rather be sailing all the time," says Bachmann.
In 2002, three guys just out of school in Minnesota pooled their resources, bought a San Juan 24, trucked her to Santa Cruz and launched her. They then cruised down the coast of California and Mexico, eventually making it to Punta Mita, where they left the boat unattended on the hook. On October 25 of '02, the very powerful Hurricane Kenna, on her way to San Blas, threw the little San Juan up on the very rocky shore. She eventually came to rest halfway up a tree on the 7th fairway of the Jack Nicklaus signature golf course at the Four Seasons Resort (which, for you duffers, was just voted the top resort golf course in the world.)
Hemphill eventually got the boat out of the tree and, using a crane, up on the beach. He discovered that her keel had been tweaked, her rudder post slightly damaged and her spreaders a little bent. He offered the owners $1,000 for the boat where she was, as she was. When they turned his offer down, Hemphill did some research on marine salvage law, and discovered that he had a claim on the boat. In fact, he took it to the port captain and made it official.
We're not sure that Hemphill had the right to do it, but he continued to fix the boat up and, on May 10 of '03, relaunched her. This was a great time for Hemphill and Bachmann, because they went sailing every day for six months, exploring every nook and cranny of Banderas Bay. Hemphill is proud of the fact that he'd added no extra gear to the boat and that she doesn't have a motor. "We do have oars," says Bachmann, "but we can't row her very quickly."
A while later, the guys from Minnesota returned, planning to cruise the boat to Costa Rica. According to Hemphill, they sanded the bottom by picking up beach sand and rubbing it against the hull with their bare hands. "They slapped some black bottom paint on using the same 'tools'," he laughs. But the guys didn't get very far with their project and cruise, as there was a good swell and they were more interested in surfing than fixing the boat up and heading south. Soon they returned home to the Gopher state.
Interested in doing a little cruising on the boat, Hemphill and Bachmann went to the port captain in La Cruz hoping to clear out for a cruise down the coast to Chemela. The port captain refused to clear them out because they didn't have any papers indicating that they owned the boat or the authority to use her. So the couple said the heck with clearing and just went on their cruise anyway. Ah, Mexico! They had a wonderful 11-day trip before returning to Banderas Bay.
Like everyone, the couple face the classic work-play dilemma. In order for their baking business to succeed, they realize they have to maintain regular business hours. But they're not very happy about it because it cuts into their sailing fun. "I'd like to be sailing on that boat every day," says Bachmann, "and sleeping on her every night." They still go sailing frequently, just not quite as much as before.
As for the guys from Minnesota who still own the boat, they and Hemphill and Bachmann trade Christmas cards each year, and everyone is apparently satisfied for the time being with this most unusual ownership-use arrangement.
If you stop at Punta Mita, you'll no doubt see the red San Juan 24 on the hook. If you go ashore, we recommend that you make the short walk up the hill to Mita'z Pizza, "the Panaderia Punta Mita Bakery" at Marlin 119 Corral. You especially want to do this if your bowels are plugged up, because Bachmann swears that her Integral 6 Granos bread will loosen you right up.
Speaking of Food at Punta Mita . . .
With much of the area having gone way upscale for the folks at the Four Seasons and other very high end resorts, it's no longer possible to get a budget meal from one of the palapa restaurants on the beach. We love those places - Mañana, Margarita (which sometimes serves at the Punta Mita Yacht & Surf Club), Tinos, El Dorado, and all the rest - but their business models have changed to please a much more affluent clientele. Fortunately, there's an alternative - the Cafe Luna, just a half a block away. It was recently opened by Art, a chef/musician from Texas. His plan is to offer just two dinner choices a night, but for under $9, including soup/salad, coffee/tea and dessert.
The following three photos shows a typical meal that Art is offering - although we forgot to get a photo of the cup of soup starter.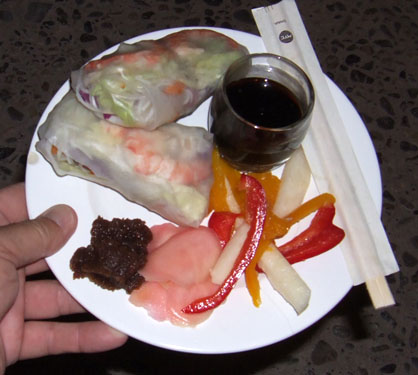 The second course was Vietnamese pork and shrimp rolls.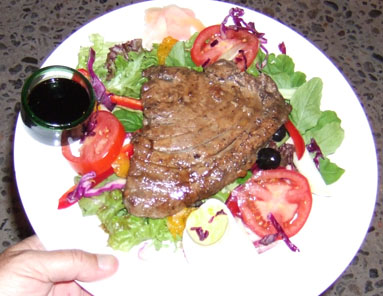 The tuna salad main course consisted of a huge piece of seared tuna on a bed of fresh vegetables.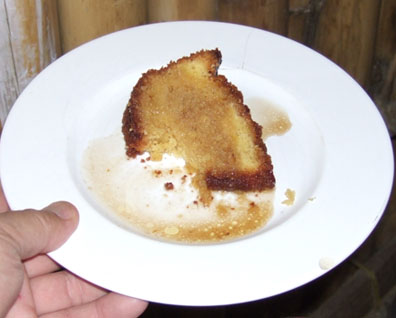 Dessert was a rum cake.
Photos Latitude/Richard
What a killer meal at a reasonable price. Art's philosophy is fresh everything. Check it out.
And if you're cruising Mexico and find a great but inexpensive place to eat, how about a mini review?
- latitude / rs