Solo Circumnavigator Making Steady Progress
December 4 - South Pacific
As reported in September's issue of Latitude 38, Southern California sailor Ken Barnes, 47, is currently attempting to become the first American singlehander to circumnavigate the globe nonstop, via the 'three capes', from the West Coast of North America.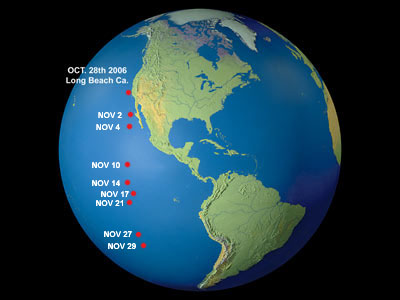 Barnes' route
Graphic Courtesy www.kensolo.com
Sailing aboard Privateer, a Maurice Griffith-designed Gulfstream 44, this newcomer to the realm of bluewater sailing has left the Doldrums in his wake and is now making steady progress into the South Pacific, where he will eventually round Cape Horn.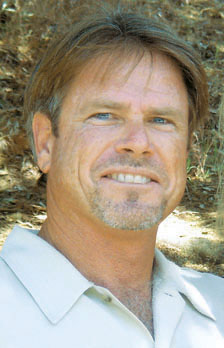 "I am now at lat 18.38s long 119w and learning all about squalls and the joys of the one-minute mad reef," he wrote last week. The following are two recent excerpts from Barnes' on board reports:
November 17: "God help anyone that was within 300 miles of Hurricane Sergio. I was 900 miles away and felt its effects. The sky in every direction was dark gray and black with heavy, thick cloud cover and you could feel everything around being sucked into its center. By first light I was reefed down to jib, staysail and triple-reefed mizzen. I was not about to give up an inch of the hard-won southing I had fought for over the past several days, so my course was east southeast toward the storm."
November 30: "When I was in the ITCZ (Intertropical Convergence Zone), between 10 degrees north and the equator, I was having a tough time making any southing due to direct headwinds and a loose headstay. . . One evening I'm sailing east southeast not making much southing, but a little, when I noticed the wind had shifted and I could pinch up a little. A few minutes later the same thing happened so I came up again. This went on until the lift was about 60 degrees. Boy, was I excited. I was finally headed only about 10 degrees off dead south and thinking I may nave finally hit the southeast trades, when suddenly I heard the off course alarm on the autopilot go off. It turned out that even though I was telling the autopilot to turn the boat and it was gallantly trying to, the boat would not respond because there was so much current that there was effectively no water passing over the rudder even though I was making 4 knots."
See www.kensolo.com for further info and updates.
- latitude / aet