Photo of the Day
December 1 - Santa Cruz/Bay Area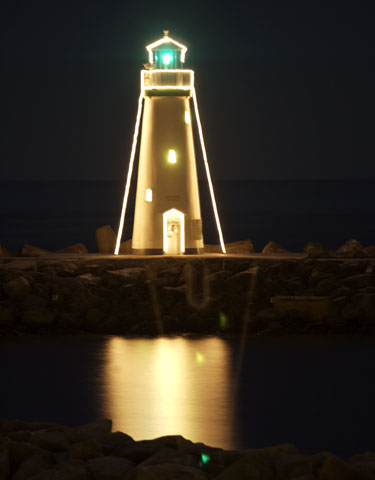 The Walton Lighthouse at the entrance to Santa Cruz Harbor is dressed for the holidays.
Photo Rich Carlson
Bay Area Lighted Boat Parades
As soon as all the leftover turkey is gone, it's time for one of the more popular Christmas traditions to begin: lighted boat parades. Nearly every city even remotely close to a body of water hosts one, and we in the Bay Area are blessed with a number of opportunities to see - and join - boats of all shapes and sizes strutting their holiday wear.
We've tracked down a number of local parades, which are all listed below and in the Calendar section of the December issue of Latitude 38, but it's certainly not comprehensive so check with your local Chamber of Commerce if you don't see your area listed. Or just take a drive along the waterfront around sunset - all lighted boat parades start at sunset - on December 2, 9, 15 or 16 - until you spot neon Santas and Rudolphs dashing across the water. And don't forget the cocoa!
Dec. 2
Oakland/Alameda Estuary hosted by Encinal YC, Oakland YC and Marina Village. Info, www.encinal.org, www.oaklandyachtclub.com or (510) 522-3272.
San Francisco (McCovey Cove to Ferry Building) hosted by South Beach YC. Info, www.southbeachyc.org.
Vallejo waterfront hosted by Vallejo YC. Info, (707) 643-1254 or email.
Dec. 9
Berkeley Pier into marina hosted by Berkeley YC. Info, email Tom.
Petaluma River hosted by Petaluma YC. Info, (707) 775-3636.
Pillar Point hosted by Half Moon Bay YC. Info, www.hmbyc.org or (650) 725-2120.
Sausalito waterfront hosted by Sausalito YC. Info, (415) 331-7204.
Dec. 15
San Francisco Fort Mason west to Crissy Field, east to Pier 39 and back to StFYC. Hosted by StFYC. Info John McNeill.
Dec. 16
Loch Lomond waterfront (San Rafael) hosted by Loch Lomond YC. Info, (415) 459-9811.
San Leandro waterfront hosted by San Leandro Marina. Info, (510) 357-7447.
- latitude / ld