ARC Rally Underway in Prime Conditions
November 29 - Las Palmas, Grand Canaria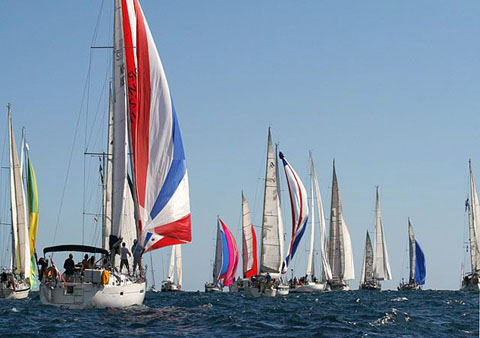 A wildly diverse fleet of 223 boats left the Canaries Sunday headed for St. Lucia.
Photo Andy Dare / ARC Rally
Having departed from the Canary Island port of Las Palmas Sunday, the 223 entries in the 21st annual ARC Rally are currently enjoying idyllic trade wind sailing en route to the Caribbean island of St. Lucia. The current leader, Capricorno, an Italian maxi, logged a 24-hour run yesterday of 271 miles.
Following an emerging trend seen in other recent offshore races, armchair enthusiasts can follow the progress of the entire fleet this year via Google Earth. Access it via: http://217.10.131.138/google/arc2006.aspx. For further info on the Rally, see: http://arc.worldcruising.com/en/default.asp.
Although some competitors battled headwinds initially, conditions are now excellent with the NE Trades expected to remain stable throughout the week.
By contrast, conditions during much of the recently completed Caribbean 1500 rally, from Hampton, Virginia, to Tortola, British Virgin Islands, were far from ideal. After a foggy, light-air start, winds built as the record fleet headed east across the Gulf Stream, then later deteriorated, yielding light, shifting winds for much of the next two weeks. Nevertheless, crews were reportedly all wearing smiles at the Awards Ceremony on November 15, no doubt overjoyed at the prospect of spending the winter in sun-kissed tropical latitudes. For additional info, see: www.carib1500.com.
- latitude / aet