Rubbish for Two Skippers in Velux 5 Oceans
November 27 - Fremantle, Australia
A dramatic turn of events hit the Velux 5 Oceans race over the weekend. Hugo Boss skipper Alex Thomson abandoned his boat after the section which attaches the rams to the canting keel snapped off early Thursday morning. Despite attempts to secure the free-swinging keel, Thomson and his shore team decided it was no longer safe for Thomson to remain on the boat in the South Atlantic. At the time of the structural failure, Thomson and Mike Golding on Ecover were racing neck-and-neck for second place, 1,000 miles south of the Cape of Good Hope. (At one point they were only one mile apart.)
Golding and fourth-place Kojiro Shiraishi immediately offered assistance, and with Golding in the closest position 80 miles due west, it was decided that he would sail upwind to Thomson. The two waited until daylight Friday morning to complete the transfer, which took four attempts and nearly two hours. Though Thomson injured his hand in the process, both skippers were relatively unscathed. Once Thomson was on the boat, Golding returned to racing. The plan was that Thomson would remain aboard Ecover as a passenger, offering no assistance, until it arrived in Fremantle.
"This has been without doubt the most terrifying and emotional experience of my life," Thomson said once aboard Ecover. [Hugo Boss] has been my life for three years. It's wrong to leave her down here and I would have done anything to save her. But to be stranded in big seas 1,000 nautical miles from land, with an irreparable keel which was swinging uncontrollably, I really had no other choice. It was very distressing to look back and see Hugo Boss in such a sorry state. I am hugely grateful to Mike for turning back to rescue me."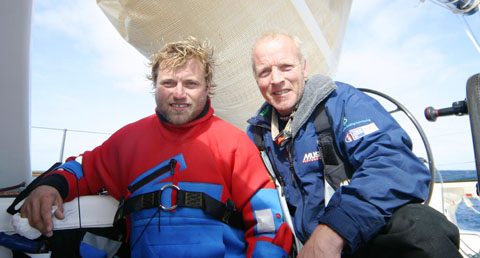 Alex Thomson (left), still in his survival suit after abandoning Hugo Boss, and Mike Golding aboard Ecover. The photo was taken before Ecover's mast fell over.
Photo Courtesy onEdition

Six hours later, while both skippers were down below decompressing from the morning's events, Golding's mast broke in two places: just above the main spreaders and again about five feet from the top of the mast. With the mainsail intact and nearly all sails still onboard (the genoa was lost overboard), Golding and Thomson secured the loose parts of the rig and effected a jury rig.
"It was slightly odd the way it happened, but since then we have both come to the conclusion that it was probably damage that was already there," Golding said later. "Yes, it was a squall. Yes, we were going fairly fast, but we were not pushing and since the pick-up we had spent most of the time drinking coffee, catching up and generally recovering from what we had both been through . . . This just doesn't seem terribly fair after what has happened in the last day - what we have both been through. It is rubbish for me and rubbish for Alex. The last thing Alex wanted to do was get plunged into the middle of another problem, and it's clearly rubbish for me, but it is one of the things that can happen when you are engaged in racing like this. We are fortunate that we have been left with the tools to continue sailing and make some choices about where we are going."
The boat is now headed to South Africa. Ecover has a spare mast, but the team will wait until the boat arrives in South Africa before deciding whether to continue in the race.
Meanwhile, the race - which started with an anemic fleet of seven boats in late October - is looking more and more like a survival of the fittest. Four of the remaining five skippers are battling equipment problems. Race leader (by some 960 miles) Bernard Stamm reported breaking a halyard and three mainsail battens last night. One of the battens is caught in the leeward backstay, meaning he is unable to lower his mainsail beyond one reef. Sir Robin Knox-Johnston, currently in fourth, is attempting to fix his problematic autopilot system. He has decided to sail to Fremantle rather than stop to make repairs along the way. Graham Dalton, the sole 50-ft entry in the race, describes himself as "flying blind" without position reports or weather data because of problems with his communications equipment. Unai Basurko, on the newest Open 60 in the fleet and 34 miles behind Dalton, is keeping an eye on his delaminating port rudder. He expects to continue on to Fremantle.
- latitude / ss